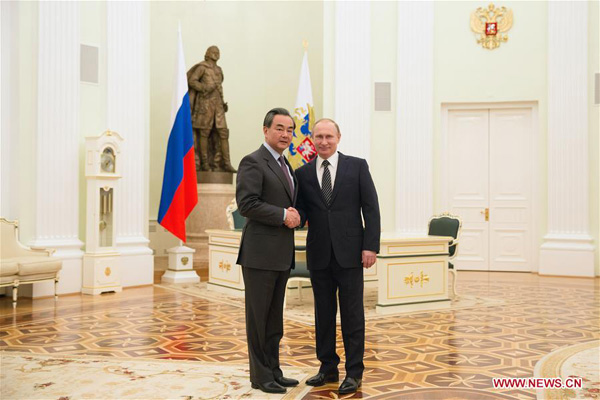 Russian President Vladimir Putin (R) shakes hands with visiting Chinese Foreign Minister Wang Yi during their meeting in Moscow, capital of Russia, on March 11, 2016. [Photo/Xinhua]
It is a priority of China's diplomacy to "steadfastly develop" the China-Russia comprehensive strategic partnership of coordination, a Foreign Ministry spokesman said at a daily news conference on Monday.
Foreign Ministry spokesman Lu Kang made the remarks when discussing Foreign Minister Wang Yi's visit to Russia from March 10 to March 11, during which the minister met Russian President Vladimir Putin and Russian Foreign Minister Sergey Lavrov.
Wang expressed his "full confidence", Lu said, on Russia's development, the prospect of the China-Russia comprehensive strategic partnership of coordination, the future of pragmatic cooperation between the two countries, as well as the outlook for bilateral cooperation dovetailing the Belt and Road Initiatives and the Eurasian Economic Union.
As to the Korean Peninsula issue, both countries stick to the goal of the peninsula's denuclearization and support the resumption of the Six-Party Talks, and neither of them recognizes the nuclear status of the Democratic People's Republic of Korea, said Lu. He added that both countries believe US deployment of the Terminal High Altitude Area Defense (THAAD) missile system in the Republic of Korea will "directly harm the strategic security interests of China and Russia", and will "damage the regional strategic balance".