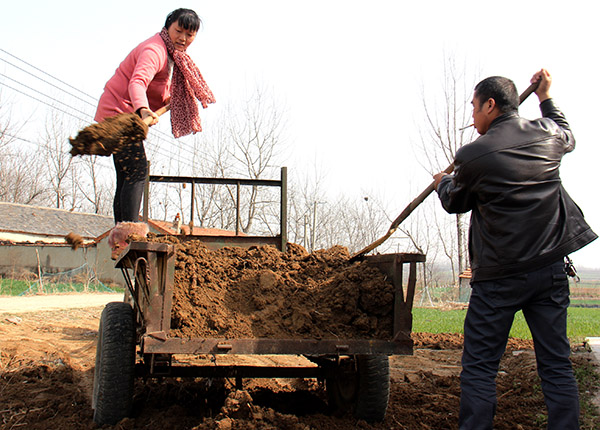 Zhu Yingqin and her husband Cui Liangjun work to level an open space behind their house in Hegang village, Changfeng county, Anhui province.[Photo by Zhu Lixin/China Daily]
Two days before Monday's Lantern Festival, migrant workers Zhu Yingqin and her husband Cui Liangjun already were busy packing their luggage into their car, ready to return to their city jobs, even though they prefer rural life.
The couple works in Hefei city, the capital of East China's Anhui province, and live in a tiny, cheap room that's perpetually bathed in darkness.
"The earlier we return to the city, the more money we can earn", Zhu said.
Cui carried the luggage to his car, which was stuffed with liquor when they arrived in Hegang village in Hefei's Changfeng county for the Spring Festival. As a tradition in the countryside, the couple bought two bottles of liquor, each priced at about 60 yuan ($9.20), for the household of each relative they planned to visit.
Even though they brought more than 20 bottles, it wasn't enough. Cui said he planned to buy no more, "since some relatives did not have close relationships with us anymore".
"Money for the liquor was our largest expenditure during the festival," Cui said.
When relatives gathered, they were likely to gamble the day away, but Zhu had banned her husband from participating in such games as "making money has been not easy for us", she said.
Zhu put their quilts in bags and left them on the bed for upcoming visits, saying "we will still come back sometimes since we have grown some wheat in the fields".
She said she wasn't eager to return to their "village in the city", especially to their 10-square-meter rented room. "There is no sunshine all year around in the room, which is priced at 300 yuan per month for rent," she said.
Despite the uncomfortable conditions, Zhu was still worried more about a rumor she heard weeks ago that the "village in the city" would be demolished soon.
With the rapid development of the city's urban areas, it has been harder for migrant workers to find an affordable housing in the city. There are other challenges, too.
The couple had worked in Xiamen city in Fujian province from 2000 to 2006. But without a local
The family returned to Hefei in 2006, mainly for their son, but found their former dwelling, which they had built with earth and straw, had collapsed in the ensuing years.
Their current 40-square-meter rural house, constructed with bricks and tiles, was built six months ago, a refuge from the city, where the couple doesn't feel they truly belong.
"One day, when we get old, we will need a shelter in our hometown," Zhu said.
The couple, neither of whom finished primary school, said they had little choice for proper jobs.
Zhu, 45, has been working for a food company in Hefei since the end of 2011. She picks sunflower seeds and melon seeds, earning a little more than 100 yuan from each 12-hour "boring and tiring" work shift.
Cui, 46, has been taking temporary jobs over the years, such as installing stages and billboards for advertising agencies. Although satisfied with his salary of 20 yuan an hour, he said "the work is just too strenuous".
In 2013, Cui bought a car, purchased with the family's savings and about 40,000 yuan borrowed from relatives, to ferry passengers around the city. But he abandoned the business a year later since it was illegal and risky.
Though not expensive, the car brought the couple some respect, as well as envy, from local villagers. "I heard recently that some other local villagers working in cities are also planning to buy cars," Cui said.
He thought some of the potential car buyers would try to borrow money from him soon, but Zhu reminded her husband: "We don't have money to lend."
Zhu said the family still had a debt of more than 40,000 yuan, which they borrowed when they bought an apartment in the city last year. The apartment, located near the Hefei suburbs, cost 540,000 yuan. The couple paid 180,000, of which 80,000 yuan was borrowed from relatives, and obtained a 20-year mortgage for the remainder.
The apartment was bought for the couple's son, Cui Yao, 21, who is a sophomore at Central South University in Changsha, the capital of Hunan province.
Fellow villagers also have bought apartments in the city, "mostly located in the suburbs where the home prices were much lower", Zhu said.
The couple views their son as their pride and hope, because he is one of the few college students in the village, which has more than 1,000 registered residents.
"I believe our lives will become much easier after my son's graduation," Zhu said.
The family will take ownership of their apartment at the end of this year, a little early for Zhu, who had hoped to delay the delivery so that they could receive some compensation, and also because the family hadn't saved enough money for the home decor.
Her husband and son laughed at Zhu and said: "You wish!"