Priorities changed after emergency landing for woman who has made caring her career
Mid-air preparations for a crash landing launched a young flight attendant onto a new career path in nursing. The emergency, due to faulty landing gear, ended high-flying ambitions and saw Sun Xiaolin change jobs to care for those on the ground and not enclosed in a cabin at 10,000 meters.
Sun Xiaolin said she had never thought she would leave the career that she had been aiming for since childhood.
But that critical moment changed her priorities and she decided to give up the glamorous and nicely-paid job of air attendant to be a nurse, or what she called "an assistant for people to fight death".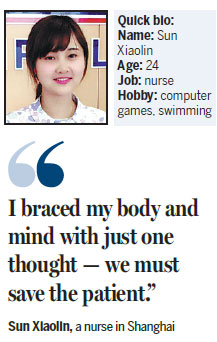 Her story was included in Love in the East, a book published in December by Shanghai East Hospital, affiliated to Tongji University, to mark the 95th anniversary of the hospital's founding. Nearly 80 employees of the hospital narrated their personal stories of how they dedicated their lives to patients.
Six years ago, after years of study and training, Sun eventually boarded a plane on her first flight as an attendant. Sun, born in 1992, had always yearned to be a flight attendant, or as she put it, a lady "in an elegant uniform shuttling through different countries in the air".
She greeted every passenger with a smile. On the fateful day when the captain discovered the landing gear failure he asked the attendants to comfort the passengers and prepare them for a crash landing.
"I was too scared to even pull myself together. Ideas flashed in my mind. Happiness and wealth that we strived to chase became irrelevant. I didn't want to just comfort people in the face of an accident or possible death. I wanted to fight death and do something that I had never tried," said the Shanghai native.
The plane eventually landed roughly but safely and she immediately quit her job. Her family and friends, she said, were wide-eyed with astonishment. She poured her savings into training to be a nurse, but received little financial support from her family who thought she had made a terrible mistake.
After three years of study and an internship, she became a nurse at Shanghai East Hospital and opted to work in the intensive care unit of the cardiac surgery department "to help the patients in the most critical conditions".
The hospital staff were amazed when they heard a former flight attendant would be on board.
Lu Ying, nursing director of the hospital's VIP clinic, where the majority of patients are expats, highlighted the different approach required. "Attendants provide service to people embarking on pleasurable trips, while we serve people who are sick and often unhappy. Sometimes a smile infuriates them and makes them feel that we are not anxious to help them."
Sun admitted the long hours and intense work made her reconsider. "I didn't even dare to blink for the entire night when I monitored a patient who just went through cardiac surgery. Once the patient's blood pressure fell, I became extremely nervous, and the tension didn't evaporate until the 12-hour night shift ended and I took off the uniform," she said.
Sometimes after an exhausting night, the nurses had to perform CPR.
"I braced my body and mind with just one thought - we must save the patient. At that moment, I left everything behind, like the stomach cramps I had," Sun said.
She gained 10 kg because of the irregular diet, but she didn't regret the decision, despite some earlier misgivings.
"Each time I saw a patient recover and leave hospital, I felt my decision to become a nurse was absolutely correct," she said.
Sun got a transfer to the hospital's VIP clinic three months ago.
"I'm still greeting and helping people from different countries and backgrounds, but it is different now," she said.
Emergencies may be more common now but she has proven her ability to handle them, in the air or on the ground.
zhouwenting@chinadaily.com.cn
(China Daily 02/25/2016 page7)