In recent Spring Festivals, I've been a road warrior alternately visiting my parents and parents-in-law who live thousands of kilometers apart.
I had always doubted the meaning of the holiday before that, until two parents were struck by illness.
Most Chinese families have followed roughly the same routine in their celebrations of the holiday, with a large and traditional Chinese New Year's Eve dinner as the centerpiece. The dining and wining would be followed by watching hours of dancing, singing or other performances on television at my parents' house, or by playing mahjong, the favorite pastime of my parents-in-law. Few would attempt to sleep before midnight, when deafening fireworks were set off everywhere to welcome better luck.
However, I had often wondered if it was wise to join the nightmarish annual travel rush for the ritual. We could always visit our parents in less crowded times and if we missed them, we could always call them on the cellphone.
During my early working life, I'd skipped quite a few Spring Festival reunions with my parents, partly due to the job and partly due to my lack of the determination of those migrant workers who went home for solace and a break from prejudice and rejection in cities. Sometimes, I did feel lonely when the city fell quiet and empty for weeks, but years of living abroad alone had toughened my mind.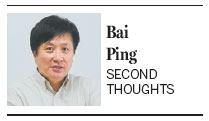 I started to visit my parents regularly for Chinese New Year only after I got married, as my wife insisted on being with my or her parents, wherever they were, for the holiday. But I was a tenacious member of the largest annual human migration in the world, scrambling for plane or train tickets and driving for many hours on crowded highways, only after my father had a stroke and my father-in-law had cancer several years ago.
Both men cheated death through successful operations. But my father has since been wheelchair-bound, while my father-in-law constantly battles the aftermath of the killer disease and the fear that it might hit again.
Suddenly, meals with parents on Chinese New Year's Eve became precious and sacred. When my worried mother and I waited for my father when he received the operation at a hospital, I painfully realized how little time I had spent with them after my sister and I went to college. Education and work have taken us to many places across the world, but never close to our parents.
The significance of Spring Festival sank in when I read that, as a result of the demands of the workplace, Christmas is often the only time Western families come together other than the buffet at a funeral.
Now in China, in many cases, isn't Spring Festival also the only time to get everyone together for a family meal or reunion?