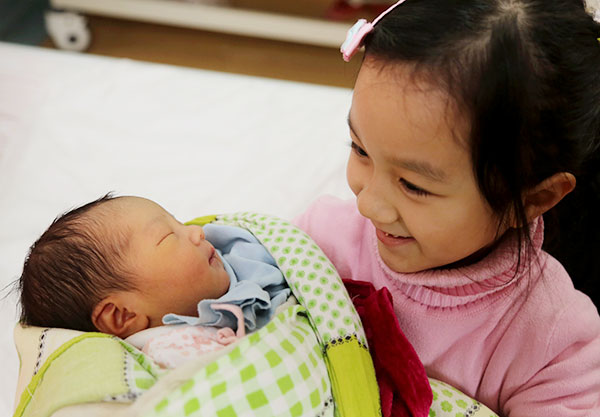 Xue yaqing, 6, holds her brother on New Year's Day at No 1 Hospital in Xiangyang, Hubei province. The newborn is the second child of a couple from the city in Central China. [Gong Bo/Xinhua]
If the sex gap continues to exist, it will threaten the population ecology and sustainable economic and social development, said Chen.
"The most noticeable impact is a marriage squeeze. Left-over men will find it more difficult to marry women", Chen added.
The sex imbalance will also increase the imbalance of genders in the workplace. "Surplus male labor will intensify the competition in the labor job market and increase the difficulty for women to get a job", said Li Jianxin, professor at Department of Sociology, Peking University.
Even the financial industry may be affected. "The left-over men will drag down businesses like credit card, loan, insurance as well as the credit system", said Yi Fuxian, a researcher on demographic policy at the University of Wisconsin.
In contrast, a balanced sex ratio would boost China's economy.
The implementation of the two-child policy will greatly increase the number of new-born babies, said Wang Peian, deputy head of the National Health and Family Planning Commission.
When they reach working age, the dependency ratio of the population will go down while the potential economic growth rate will go up by about 0.5 percent. Some 30 million individuals are expected to enter the workforce by 2050, Wang added.