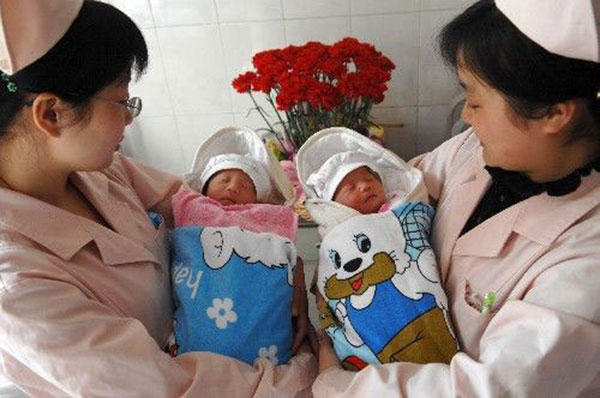 Two nurses hold baby boy and girl twins at a hospital in Hefei, Central China's Anhui province. [Photo/Xinhua]
Despite a constant drop of China's highly skewed sex ratio at birth in the past 6 years, the nation still faces a steep challenge to bring the ratio back to normal, said an official with the top health authority. A target set for the year's end will be difficult to meet.
Part of the long term efforts to redress the situation, the National Health and Family Planning Commission has, in the first half of 2015, busted 2014 cases involving illegal fetus sex identification and sex-selective abortion, revealed Zhou Gongwei, head of the Gender Equality Office of the commission.
The office is under the family development department of the National Health and Family Planning Commission. Zhou made remarks in an exclusive interview with China Daily.
Some 42 people, as a result, were sentenced and 10 medics and 14 medical institutions involved had their medical licenses revoked, the latest figures from the commission showed.
Currently, China is among 18 countries and regions worldwide with sex ratios at birth higher than 107 and has been suffering the most skewed gender ratio for the longest period of time, he said.
"Over the long run, that definitely upsets the country's population security and social harmony," he warned.
He referred to a marriage squeeze, a population imbalance in which the number of potential brides does not match the number of potential grooms.
By 2020, there will be at least 24 million more Chinese men aged 20 to 45 than women of the same age, leaving particularly the underprivileged countryside with aging bachelors, said expert estimates.
Primary causes, as Zhou recognized, include the deeply rooted favoring of males due to social and economic factors and, more directly, gender selective abortion.
The ratio stood at 115.88 in 2014 in comparison with a maximum of 107 in the range of normal starting at 103.
To redress the long time problem, China set a clearly-defined goal by the end of 2015 to drop the sex ratio at birth to below 115, according to the National 12th Five-Year Population Development Plan (2011-2015).
"It will be challenging and difficult to meet that target," he said.
During the past 4 years, the figure deceased on average by 0.51 annually but the gap between 2014 and the goal was a bit higher at 0.88.