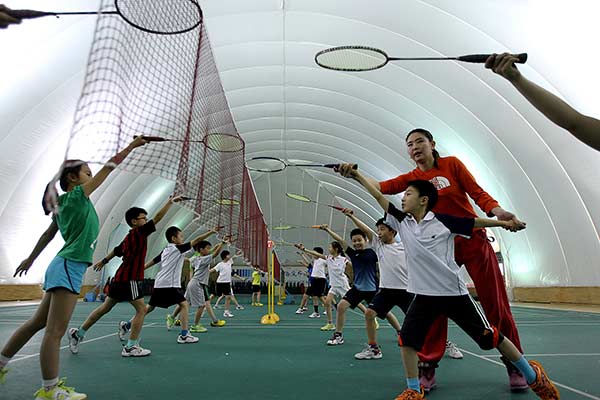 Students at Beijing Haidian Foreign Language Shiyan School attend a physical education class in a plastic dome that shuts out dirty air. ZHANG WEI/CHINA DAILY
Some meet obstacles to installing classroom filters, while others are successful
Hu Qingming, a Beijing resident whose daughter is a primary school pupil in the capital, collected 5,000 yuan ($770) with other parents to buy an air filter for their children's classroom.
But Hu said the school refused to allow the parents to install the device.
"We had no choice but to give up the idea. Finally, we sold the filter," said the father whose daughter attends Hepingli No 9 Primary School in Dongcheng district.
The lasting air pollution in Beijing has driven increasing numbers of parents to collect money and install filters in classrooms, but many were rejected by schools. The reasons given included disapproval from the Beijing Commission of Education.
Parents like Hu could not understand the commission's stance and feared for their children's health at school, with many complaining that the commission was not taking the issue seriously.
The commission said student health is among its top concerns, and it has been working with experts, research institutes and environmental protection authorities to seek the best way to control air pollution at schools.
The efforts made include reducing outdoor activities on smoggy days and suspending classes after a red alert for pollution has been issued.
The commission said it has considered installing air filters or ventilation systems at all schools in the capital. But no progress has been made to date, as such work must avoid other possible hazards that could harm students' health.
An official from the Beijing Environmental Protection Bureau, who wished to remain anonymous, said a benchmark is needed to define air quality in classrooms.
Health authorities should set up detailed standards to ascertain when the density of PM2.5 in a classroom is at a level where air quality can be considered good, the official said, adding that such standards can act as a basis for further control of air pollution in classrooms.
While parents like Hu are in the majority, others in Beijing have installed air filters in their children's classrooms.
Wang Qiang, whose 7-year-old daughter studies at the private Beijing Haidian Foreign Language Shiyan School, said his daughter's class has enjoyed clean air since a filter was bought and installed last winter.
Wang Haifeng, whose son is a fourth-grade pupil at Wulutong Primary School in Xicheng district, teamed up with other parents to install a filter in their children's class last month. "But neither installing air filters nor suspending classes is the total solution," Wang Haifeng said, adding that the government should do its best to tackle the pollution problem thoroughly.
Zheng Jinran contributed to this story.