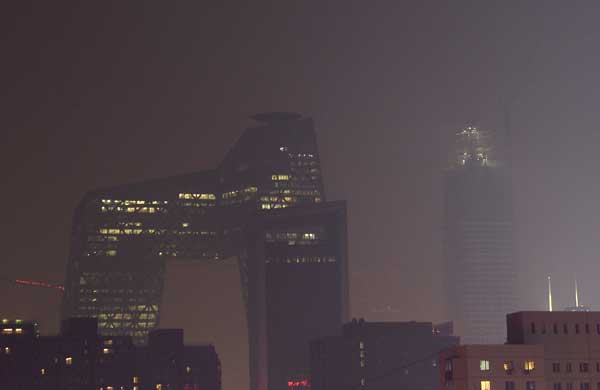 The CCTV headquarters is shrouded in heavy smog in the central business district in Beijing, China Dec 7, 2015.[Photo/Xinhua]
The ministry of environmental protection has published the air quality rankings for 74 cities. A People's Daily opinion article reviewed the past promises made by several mayors to improve the air quality because their cities ranked bottom on previous lists, saying such vows have not been fulfilled:
Improving air quality is rather difficult because the pollutants in the air have accumulated over a long period of time and one cannot get rid of them within a day. The air quality of a city has much to do with its industrial structure, and geographical and climate conditions, which cannot be changed overnight.
Even if a city makes efforts to suspend factory production, that won't solve the problem because neighboring regions might not take similar measures.
It seems some mayors lack such common sense. When blamed by their superiors for the bad air quality, they swear to change things within two or three days or a week or at the most a month.
Such bold and unreliable vows reflect a distorted mentality. For too long these officials have been issuing such orders and they seem to regard air quality as an obedient subordinate, too.
These mayors do not mean to truly improve air quality; they care for the words of their superiors. All they want is to get praise from higher officials and the way they realize their dreams is to impose missions impossible upon subordinates. That's against the basic principles of modern governance.
In order to prevent mayors from making such meaningless promises, it is necessary for their superiors to evaluate their performances with a long-term mechanism rather than a short-term one. For example, the environment ministry could publish the air quality ranking list for cities every two or three months, so that their average air quality can be seen more clearly.
Besides, it is also necessary to allow residents to supervise their mayors and dismiss those unfit for their posts.