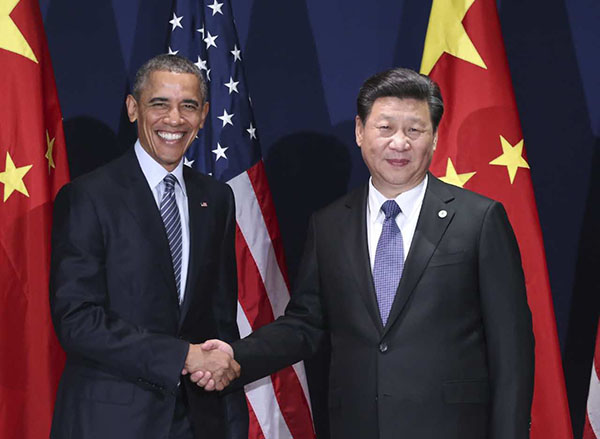 Chinese President Xi Jinping shakes hands with US President Barack Obama during their meeting at the start of the climate summit in Paris November 30, 2015. [Photo/Xinhua]
The United States' suggestion that the Doha Round of trade talks be prematurely ended is both ill-timed and irresponsible.
It is true that the world has changed since the Doha Round was launched at the beginning of this century: China's rapid rise as a top trading power in the past decade and the 2008 global financial crisis have reshaped the global trade and economic landscape beyond recognition.
However, what remains unchanged is the dire need for the international community to deliver on the Doha Round Development Agenda.
Last week, the United Nations cut its forecast for global economic growth in 2015 to merely 2.4 percent, and emphasized that growth in developing and transition economies was at its weakest since the global financial crisis.
At a time when developing countries are particularly exposed to rising volatility in exchange rates and capital flows that could further slow their economic growth, the international community should not try and weasel out of its early Doha Round commitments to address the needs of developing economies.
The hard-won success of the climate change talks in Paris should be used as reference at the World Trade Organization conference being held this week in Nairobi, Kenya.
The international community should keep reaffirming in the context of global trade rules that WTO negotiations must address issues vital to poorer countries, such as efforts to rein in the agricultural subsidies in rich economies like the US and the European Union.
The lack of progress in the Doha Round is surely a cause for concern and frustration. But rather than an excuse to backpedal, it should spur greater efforts.
Yet Michael Forman, the US trade representative, wrote in a recent article that "we are at the end of the line on Doha", which means the US wants to abandon the global trade negotiations.
On the one hand, the US' unwillingness to continue the Doha negotiations smacks of unwarranted defeatism, which is in sharp contrast to the newly found triumphalism global leaders displayed after ending about two decades of fruitless climate change talks.
On the other hand, it deals a heavy blow to the confidence of most developing countries that rich countries are truly committed to realizing the Sustainable Development Goals through fair and free trade.
For international agreements on climate change or trade to fulfill their goals, developed countries cannot shirk their responsibilities.