Two massive passenger terminals to increase hub's total capacity to 80 million annually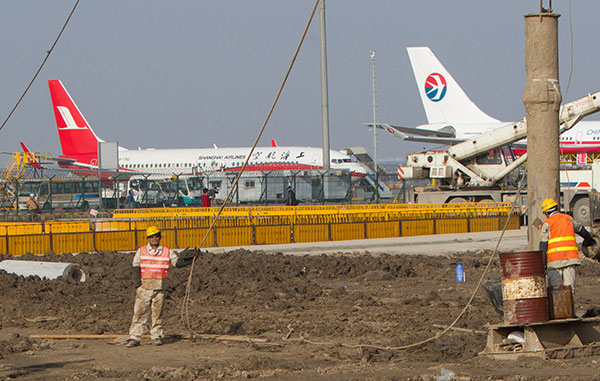 Workers are busy with the expansion project of Shanghai Pudong International Airport on Tuesday. GAO ERQIANG/CHINA DAILY
Construction of the world's largest passenger terminals has begun at Shanghai Pudong International Airport, with completion set for 2019.
The new facilities represent a milestone in Shanghai's quest to become a world-class air transportation hub, the Shanghai Airport Authority said.
The two new passenger terminals, which will cover 622,000 square meters-larger than the airport's T1 terminal-will boost airport capacity to 80 million passengers annually, a significant increase over this year's 60 million, Shanghai Airport Authority officials said on Tuesday at the launching ceremony for the third phase of the massive extension.
The two satellite terminals, located south of the existing two terminals, will be connected to each other and link to the main terminals via a rapid transit system.
"After checking in at T1 or T2, passengers will take trains resembling small subways to the satellite halls. It will be faster than walking or taking a shuttle bus," said Dai Xiaojian, vice-president of Shanghai Airport Authority.
A fifth airstrip will also be built at a cost of 20.6 billion yuan ($3.18 billion).
"It's predicted that in 2020 that Shanghai's two airports-Hongqiao and Pudong-will have an annual passenger throughput of 120 million, which will place the city among the top three in the world," said Jing Yiming, president of the authority.
Surging passenger demand in recent years has exceeded Pudong's design capacity of 42 million. The airfield area and terminals have been operating under overload conditions, although the airport has undergone earlier extensions and upgrades, Dai said.
A continuous increase in passenger volume is expected with the maturity of the China (Shanghai) Pilot Free Trade Zone and Shanghai Disney Resort, which is set to open next year.
"The satellite halls were in the original design of the airport as a functional extension. It will be the last project at the Pudong airport. Experts have been discussing the design and function for years," Dai said.
"The satellite halls, consisting of six floors above ground and one floor underground, will solve bottlenecks brought by capacity saturation and an insufficient number of boarding gates," he said.
Dai said conflicts on the ground between aircraft taxi operations, shuttle buses and other vehicles have increased in recent years, hurting efficiency and raising safety risks.