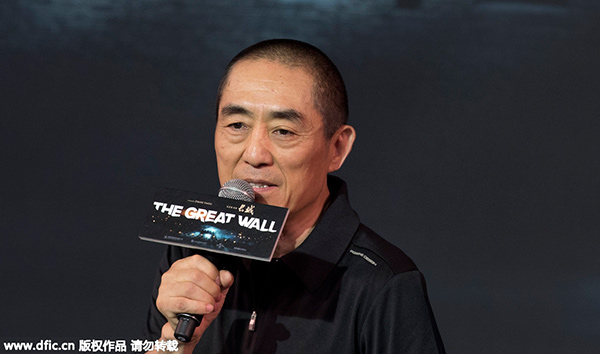 Film director Zhang Yimou speaks at a press conference of his latest movie The Great Wall held at a hotel in Beijing, on July 2, 2015. [Photo/IC]
Chinese film director Zhang Yimou is in more hot water after his comments on celebrities using drugs backfired, landing him in further controversy after he was bombarded by Internet users for breaking the one-child family planning policy and fined 7.48 million yuan last year for having three children.
During an interview with Xinhua News Agency, which had invited a dozen renowned crosstalk comedians, actors and dancers to comment after news broke on Friday that pop singer Yin Xiangjie had been arrested again for drug use and possession, Zhang said the atmosphere in the entertainment circle is unhealthy and he firmly supports police cracking down on drug use.
"I've seen several actors smoke marijuana together during shooting breaks, and someone tried to persuade me to try ecstasy, saying it's the source of inspiration," he said.
The words immediately attracted people's attention. Some criticized him for not reporting the actors to police. By quoting a decision on anti-drug moves by the Standing Committee of the National People's Congress, some critics said residents have an obligation to report drug use, so as a public figure Zhang should set an example.
Lawyers, however, said failure to fulfill obligations is not a crime in China. Criminal law does not list not reporting drug use as a crime.
Supporters of Zhang argued that it's already brave for him to speak out and good that he himself hasn't used drugs. They said the critics are morally hijacking Zhang.
"If Zhang reports actors who use drugs and gets them detained, how can he finish his film without them?" a Sina Weibo user named Menglikanhua DK asked.
Another, called Expulso, said: "If people in the entertainment circle know you like to report, who would like to hang out with you in the future?"
Since March last year, several tainted stars such as Fang Zuming (Jaycee), son of kung fu movie superstar Jackie Chan, Zhang Mo, son of actor Zhang Guoli, scriptwriter Ning Caishen and singer Li Daimo, have been detained by Beijing police and exposed by the media.
In October 2014, the State Administration of Radio Film and Television issued a directive to TV stations, film producers and distributors, prohibiting the broadcast of works by actors who use drugs or visit prostitutes.
Many agencies have since signed letters of commitment, promising not to hire celebrities with drug records for TV dramas and films or use them on TV programs.