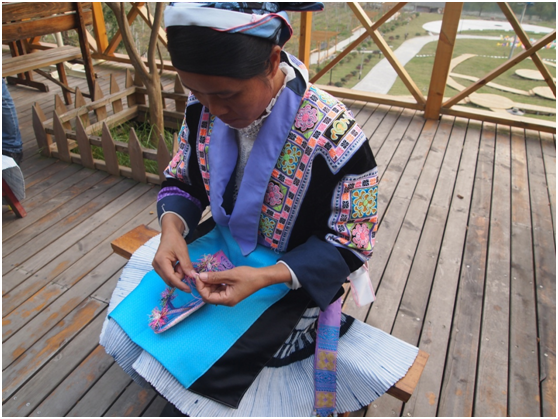 An ethnic handcrafter demonstrates the skills of making shoes in Kaiyang county of Guiyang, Guizhou province, Nov 15, 2015. [Photo by Liu Xiaozhuo/chinadaily.com.cn]
Guiyang, capital city of Guizhou province in Southwestern China, is determined to better protect the traditional cultures of ethnic groups by promoting rural tourism.
Guiyang is home to 49 ethnic groups, including the Miao, Buyi and Tujia. The population of Guiyang's ethnic people is 721, 500, accounting for 15.03 percent of the total population of the city.
Guiyang attaches great importance to the protection of traditional ethnic cultures. Wang Mao'ai, deputy minister of the United Front Work Department of the CPC Guizhou Provincial Committee, said ethnic groups living in Guiyang have excellent cultural traditions and the changes of their living modes in modern society has impacted those traditions.
"Traditional ethnic cultures are rooted in rural areas and Guiyang's main tourist resources are in rural ethnic areas." Wang Mao'ai said.
Wang Mao'ai added that Guiyang is trying to guide the development of rural tourism.
"We hope to preserve the authentic ethnic cultures while promoting Guiyang's beautiful ethnic villages," Wang Mao'ai said.
According to Wang Shengli, a local official of Guiyang's Kaiyang County where 48,000 ethnic people live, the economic benefits brought by tourism stimulate local ethnic people to protect their cultures, while the development of local rural tourism has been relying on traditional ethnic cultures, which attract flocks of tourists.
"More and more ethnic people in recent years have gradually realized that the folk handcrafts which they took for granted in the past are valuable," Wang Shengli said.
Wang Shengli said that some local ethnic residents who are good at traditional handcrafts used to work in big cities. They saw opportunities in rural tourism and came back. Many young people are willing to learn too.
"It is a good and effective way to pass down the traditional ethnic skills which are in danger of being lost," Wang Shengli added.
Chen Hongchi, general manager of Kangyang's Hmong Culture Company, said that the company has integrated ethnic elements into the development of their business of tourism and cultural products. "We open tours to ethnic villages and tourists are very interested in ethnic people's handmade goods. Many ethnic people increase their income and it is a good way to pass on the traditions," Chen said.