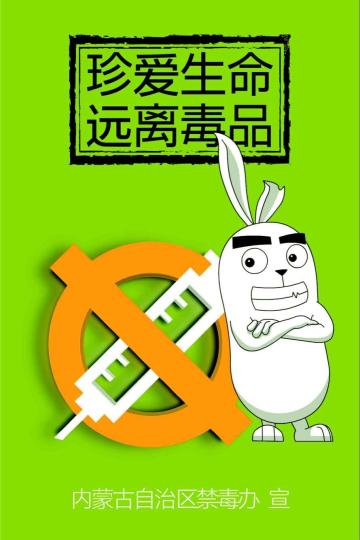 One of the posters of the anti-drug campaign. [Photo courtesy of Inner Mongolia Public Security Bureau]
Hohhot – A local cartoon image called Fei Tu, an unusual-looking rabbit with one broken ear, has debuted as Inner Mongolia's anti-drug mascot, and also the first of its kind in the country.
Also making an appearance on November 10 was a platform on WeChat, China's popular messaging app, and a new media outlet for anti-drug campaign.
According to the Inner Mongolia Public Security Department, the region is suffering from serious drug problems. The number of recorded drug addicts amounts to 46,232, doubling the number in 2011.
Tang Shuren, a person in charge of the anti-drug team, said the new measures could hopefully raise awareness among youth.