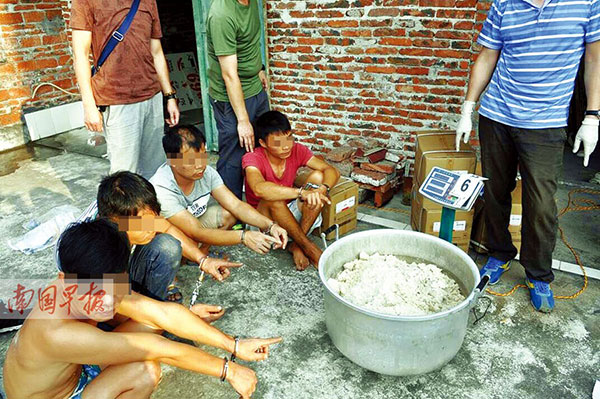 Four members of a gang caught making drugs at home. Photo provided by police.
China and Vietnam will enhance law enforcement cooperation to crack down on drug trafficking, as the border has become the second largest channel for drug smuggling to China, the Ministry of Public Security said.
"The border area between South China's Guangxi Zhuang autonomous region and Vietnam has become the second biggest 'hidden passage' for drug smuggling to China, inferior only to the China-Myanmar border," a ministry anti-narcotics department statement said on Wednesday.
China borders a major international center of opium and methamphetamine production in the Golden Triangle, which includes Myanmar, Laos and Thailand. Officials say Guangxi and the adjacent province of Yunnan are the most drug-plagued areas in China.
Between Sept 16 and Nov 15, China and Vietnam conducted a two-month-long special operation to target major drug trafficking rings and drug smuggling crimes.
Law enforcement officers from China and Vietnam have investigated 1,466 drug smuggling cases, detained 2,054 suspects and confiscated 2,383 kilograms of drugs since the operation began, the ministry said.
A command center in Guangxi was created to collect and share intelligence with Vietnam, and direct the joint operation. Police officers from 17 provinces, including Guangxi, Guangdong and Yunnan, participated in the actions.
Security checks were enhanced at key roads, airport and ports, and judicial cooperation was expanded on investigations and the apprehension of suspects.
In addition to opium and meth, synthetic drug smuggling from Vietnam is also a significant problem and requires urgent cooperation, the ministry said.
The ministry said it will work closely with its counterparts from Vietnam to exchange evidence, investigate cases and repatriate drug traffickers.