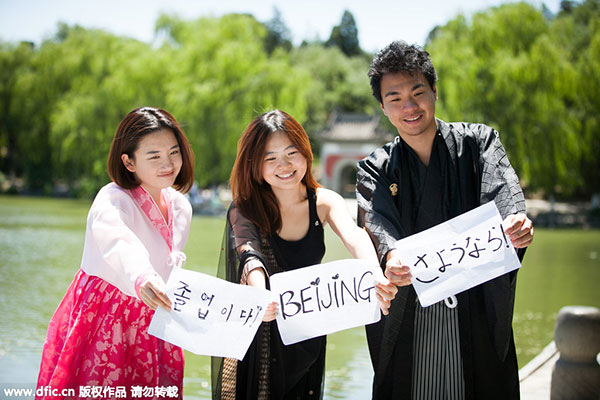 International students have their graduation pictures taken in Peking University, Beijing,June 8. [Photo/IC]
Japanese students in the Chinese mainland outnumber those studying in the US, according to Japan's Ministry of Education, Culture, Sports, Science and Technology, a Taiwan news outlet reported on Monday.
Some 42,000 Japanese studied in the US in 2004, half the total studying abroad. In 2011, the number was down to only just over 20,000, 35 percent of Japanese students being educated overseas.
The number of Japanese going to the Chinese mainland to study has been rising since 2009 and now surpasses the US.
Japan saw its peak in 2004 when 83,000 sought academic careers overseas and the number has decreased since.
Some Japanese experts say the decline indicates young Japanese are satisfied with the domestic situation rather than preparing for challenges outside.
A ministry spokesman said: "Choices are various for studying abroad nowadays, not just limited to the US."
Many Japanese universities have an increasing number of exchange programs with Chinese universities and Japanese companies now tend to prefer people with academic experience in Asia rather than the US or Europe as previously.
Tuition fees are another reason. Annual fees in US universities are almost twice those charged by Japanese universities.