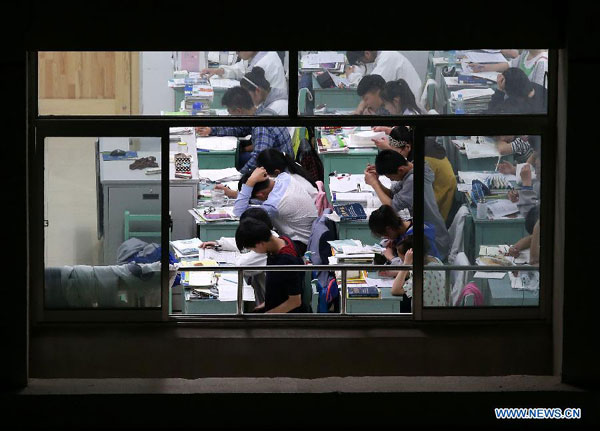 Students study to prepare for the national college entrance exams due early next month, at Lianyungang High School in Lianyungang, a port city in East China's Jiangsu province, May 18, 2015. [Photo/Xinhua]
China is gradually providing free senior high school education to more poor students.
Vice president of the National Institute of Education Sciences Zeng Tianshan pointed out that China's senior high school enrollment rate is still lower than that in developed countries.
He said in face of the rapid development of higher education, senior high school education remains a weak link in the whole education system.
"The expansion of senior high school enrollment will not only help enhance the quality of higher education but increase the average years of schooling. Now the average is just 10.1 years. The development of senior high education is of great importance to improving the quality of the population."
By 2020, China will provide free senior high education to all students in the country, with the gross enrollment rate expected to reach 90 percent.
China has adopted a double-track model for senior high education: the normal senior high education and a secondary vocational education.
Experts said enhancing the quality of senior high education in remote rural areas should be a top priority.
According to the communique of the Fifth Plenary Session of the 18th Communist Party of China Central Committee, China will gradually exempt tuition fees in secondary vocational schools and give priority funding to poor students.
The exemption of tuition fees will benefit nearly 20 million secondary vocational students, nearly half of the population receiving free senior high education.