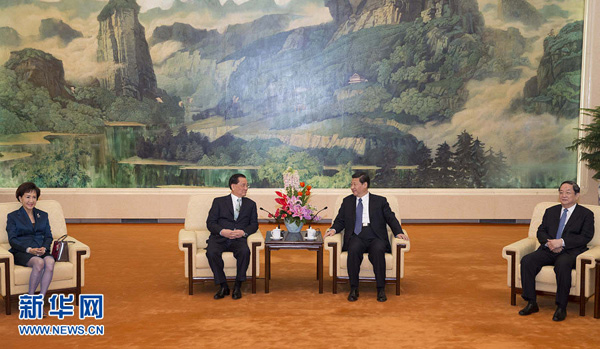 Xi Jinping, general secretary of the Communist Party of China Central Committee, meets with Lien Chan, honorary chairman of the KMT, at the Great Hall of the People in Beijing, Sept 1, 2015. Lien Chan was invited to attend the Sept 3 military parade marking the 70th anniversary of the WWII Victory over Japanese aggression, a victory won through the cooperation of the Communist Party of China and the Kuomintang in Chinese mainland. [Photo/Xinhua]
BEIJING - Xi Jinping, general secretary of the Communist Party of China Central Committee, is scheduled to meet Taiwan's leader Ma Ying-jeou in Singapore on Nov 7 to discuss cross-Straits issues, a Chinese mainland Taiwan affairs official said Wednesday in Beijing.
It will become the first meeting of its kind from the two sides since the Chinese civil war (1946-49).
Xi Jinping and Ma Ying-jeou will address each other as "Mr" and have dinner after the meeting in Singapore, said Zhang Zhijun, head of the Taiwan Work Office of the Communist Party of China Central Committee and Taiwan Affairs Office of the State Council.
They will exchange views on promoting the peaceful development of cross-Straits relations, said Zhang.
China's Taiwan Affairs Office said in a statement: "The mainland's attitude on a meeting between leaders from both sides of the Taiwan Straits is positive and consistent. If there is news on this, we will issue it in a timely manner."
Relevant departments of the two sides have decided through consultation that the meeting will be made in the name of leaders of the mainland and Taiwan, Zhang said, adding it is a pragmatic arrangement in accordance with the one-China principle while cross-Straits political difference has not been resolved.
Xi will visit Vietnam and Singapore from Nov 5 to 7, which comes ahead of the establishment of the ASEAN Economic Community by year end.
Xi's Singapore trip, from Nov 6 to 7, is scheduled for after his state visit to Vietnam.
He will meet Singapore's President Tony Tan Keng Yam and Prime Minister Lee Hsien Loong, and attend the signing ceremonies of cooperation pacts on finance, education, technology and urban governance.
Ma will then fly to Singapore to meet with Xi, the Taiwan authorities said in a statement.