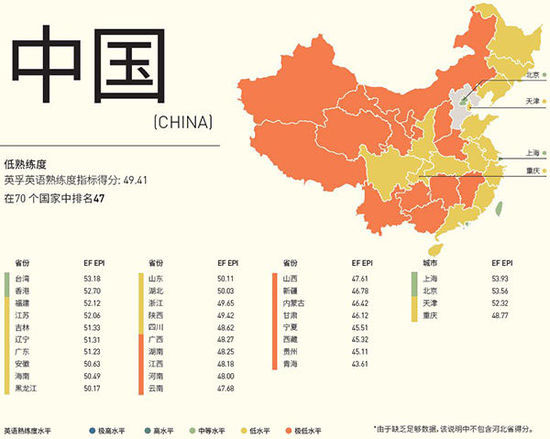 A graphic illustration shows the English-language proficiency of Chinese people across the country in a latest report released by EF Education First. [Graphics from The Paper]
University students weaker than younger students, professionals
The English-language proficiency of Chinese people has slipped since last year, according to a global survey.
A report released Tuesday by EF Education First, an international education company, said that China ranked 47th among 70 countries. In Asia, China finished 11th of 16 countries where the survey was taken.
EF separated the surveys by region and city. Shanghai and Beijing had the highest scores of anywhere in China, followed by Taiwan, Hong Kong, Tianjin and then Fujian, Jiangsu and Jilin provinces.
Christopher McCormick, senior vice-president for academic affairs of EF, said that in each country, women were more proficient in English than men.
A total of 910, 000 adults participated in the survey. It also found that in China, the English-language proficiency of university students was weaker than younger students and working professionals.
McCormick said that is because more foreign companies are opening in China, and growing numbers of Chinese companies are doing business globally.
"More young working professionals in China are using English than ever before, and this experience is giving them a higher level (of proficiency)," he said in Beijing, where EF released the report.
"You can look at contemporary Chinese society and you can understand that," he said. "There are more opportunities and more pressure to use English in the workplace today."
Cai Jigang, an English-language professor at Shanghai's Fudan University, is concerned about university students' decline in English.
"The current requirement for university students' English language skills is so loose that students lack the goal and motivation to study or use the language," said Cai, director of the Shanghai Advisory Committee on College English Teaching.
Many Chinese universities give only four general English lessons to their non-English majors and ask the students to only pass the College English Test Band 4 (CET-4), which requires a vocabulary of 4,500 English words.
"Many students have already reached this level long before entering university," Cai said. "Under such circumstances, they have no drive to fight for a higher level.
"Once university students are able to read professional literature, make literature reviews, write essays and do presentations of their majors using English, we can expect a rise in their English ability," he said.
McCormick explained that the reason China's EPI index was below some Latin American countries this year is because those countries, such as Chile, have put strong emphasis on bringing English-language speakers to their country to teach.
China ranked 37th in 2014 and as high as 29th in 2011. Sweden ranked first in EPI overall in 2015, followed by Netherlands and Denmark.