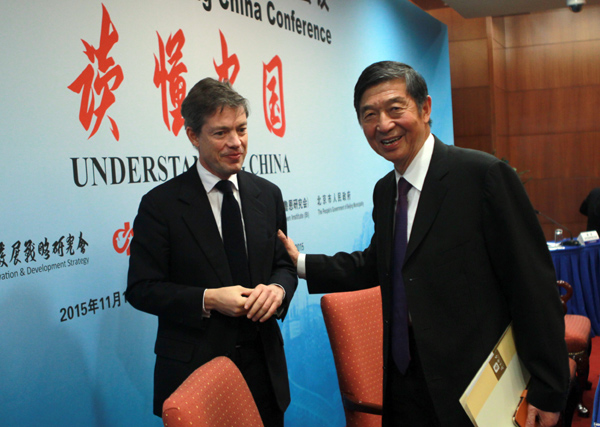 Wu Jianmin, China's former ambassador to France and adviser to the country's Foreign Policy Advisory Group, and Nicolas Berggruen, founder of the Berggruen Institute, meet with the media in Beijing on Tuesday. ZOU HONG/CHINA DAILY
China's new Five-Year Plan (2016-20) calls for deepening reform and opening-up as well as proactively shouldering international obligations and duties, President Xi Jinping said on Tuesday.
The country's success in achieving the goals set by the plan cannot be realized without practical cooperation with all countries in the world, he said.
Xi elaborated on China's latest vision for healthier growth when meeting with visiting former prominent politicians, business leaders and scholars in Beijing.
They were attending the 2nd Understanding China International Conference, a leading seminar, along with senior Chinese officials.
Beijing unveiled its major economic agenda for the next five years last week.
Xi said realizing the new plan will bring more development opportunities for the world, and China is ready to share these opportunities with all countries to jointly shape a "beautiful future".
Former US treasury secretary Lawrence Summers said he was encouraged by the determination and dedication of China's policymakers, even as they face formidable challenges and an economic transformation.
Nicholas Berggruen, chairman of the Berggruen Institute, an independent think tank that develops ideas to shape political and social institutions, said, "China is trying to achieve an enormous change economically in terms of where the energy for future economic growth is going to come from."
Xi also outlined Beijing's goals for hosting the G20 summit next year. These include addressing "the most demanding issues in the global economy" and shaping consensus for boosting long-term and stable growth.