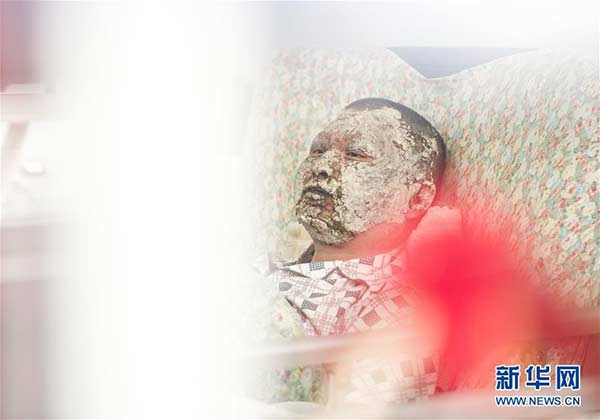 Wu Jun received treatment in the hospital. [Photo/Xinhua]
Wu Jun, a special duty member in Hubei, has no regrets about the choice he made on Feb 10 when he jumped on a flaming bomb to stop it from harming others while getting severely injured himself.
Wu Jun received the order when he was on patrol at 9:00 am on Feb 10 saying that there were blasts in Baota village, Qingquan town, Xishui county, Huanggang city, Hubei province.
When Wu Jun arrived at the scene with his teammates, he found local police in a stalemate with a man in an adobe house who kept throwing explosives out of the house to attack the police.
The man, 42, surnamed Wu, held a grudge against a woman who refused him and hit her father's head hard for no reason.
He ran back to his house when police came to arrest him.
He wore a home-made bomb on his chest and twined the lead around his body as he kept throwing bombs out of the house to stop police coming in.
At the same time, the suspect's mother was ill in bed in the neighboring room, and there was a risk that she would get hurt by a blast.
After a long stalemate, the suspect became more and more emotional and unstable as Wu Jun made the decision to break down the rear door and get the suspect under control to avoid causing the explosion and the collapse of the house.
But the suspect lit the bomb lead once he saw Wu Jun and others coming toward him.
Wu Jun threw his body on the lead and tried to put out the flame while he struggled with the suspect to dismantle his bomb.
The suspect was resistant and picked up a knife intended to hurt Wu Jun. More people came in and pinned the suspect on the floor.
In the chaos, the bomb lead burned out and Wu Jun threw himself on the bomb to decrease the impact of the bomb.
Wu Jun was severely injured while others including his teammates, the suspect, and the suspect's mother were unhurt.
Wu Jun was soon admitted into the hospital.
According to the local doctor, he has more than thirty injuries on his stomach, back and face.
Wu Jun's wife was worried after receiving the news that her husband was injured.
She said, "He's devoted to his job. I was worried as his wife but I support him. He doesn't regret his choice and I don't, either."