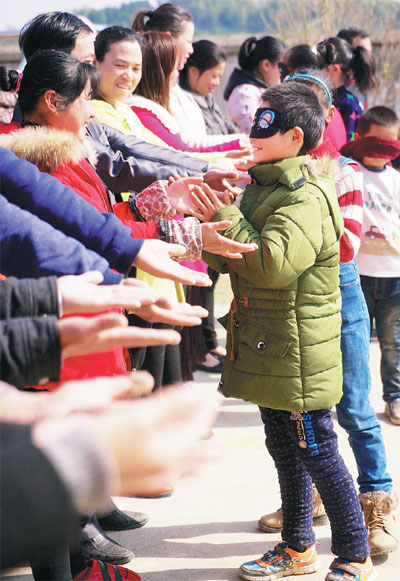 Volunteers play a game with left-behind children at Tangshan Primary School in Xiugu town, Jiangxi province, on Thursday. Hu Chenhuan / Xinhua
The weeks after Spring Festival used to be the most depressing for children left in China's rural areas by their migrant worker parents. The situation is now changing thanks to government moves to provide better-paid jobs in the countryside. Xinhua News Agency reports from Chongqing.
Tao Xingyue, 12, and Tao Junshen, 10, used to dread the end of the Chinese New Year holiday when their parents returned to their jobs in distant cities, leaving the youngsters at home.
This year, though, they had no reason to cry. After five years of living with their uncle in a village on the outskirts of Chongqing municipality, the children have their parents back by their sides.
The Taos were typical of the more than 60 million rural children "left behind" when their parents moved away to become migrant workers. Mother Yu Changmei, a cleaner, and father Tao Yonghong, a security guard, could only return home twice a year from their jobs in Guizhou province.
Now, however, they are an example of an increasingly common type of Chinese family - the reunited ones. Last year, China's migrant population fell for the first time in about 30 years as awareness grew of the risks facing left-behind children. The government is encouraging migrants to return home, partly for economic reasons as it works to close the urban-rural development gap, but also to provide support for lonely children.
A new road map
On Feb 14, the State Council, China's Cabinet, released a guideline on protecting left-behind children, delineating the responsibilities of parents, governments and society at large.
The guideline, signed by Premier Li Keqiang, stated that local governments and village committees should ensure they are well-informed about the conditions faced by left-behind children under their jurisdiction, and to ensure they are looked after properly.
The primary responsibilities of parents were outlined in the document, which also ordered education authorities and schools to ensure that children can live and study in safety.
Local governments are now allowed to use charities and voluntary bodies to provide services for children. A system of reports, intervention, assessment and help will be established, and the guideline also outlined plans to gradually reduce the number of left-behind children.
Two-pronged approach
The document is the first part of a twin approach that will help parents to take their children with them if they leave their hometowns or villages in search of work.
Since 2012, many provinces have gradually revised their education policies to allow the children of migrant workers to take the gaokao, China's national university entrance exam, in cities. That means rural children who would previously have been left at home are now able to live with their parents in cities.
The second part of the approach, being trialed in Chongqing and a number of other cities, is the creation of an improved rural environment that will encourage potential migrant workers to stay in their home areas.
Most residents of Chongqing's outskirts are farmers on low incomes. The municipal government is helping them to start their own businesses from home or to find work nearby.
In the past four years, Chongqing has provided 7.4 billion yuan ($1.1 billion) in low-interest loans to 89,000 migrant workers. Businesses that employ more than 100 ex-farmers can receive subsidies of as much as 600,000 yuan, and 36 industrial parks are offering workshops, entrepreneurial guidance and financing specifically for returned migrant workers.
More than 1.7 million migrant workers have returned to Chongqing since 2010, and more than 30 percent of them have started their own businesses, according to the municipality's human resources and social security department.
"The best solution for left-behind children is to reunite parents and children," said Liu Wenkui, secretary-general of the China Foundation for Poverty Alleviation.
Guan Xinping, a professor of social policy at Nankai University in the northern port city of Tianjin, said a lack of parental interaction could affect children's health and social development.
"The company of their parents is the best gift children can receive. It's not an easy process for an infant to grow to an adult; it requires care and help from their parents," Guan said, adding that parents should engage fully with their children and teach them basic skills, including rudimentary healthcare, housework, communications and morals.
"A lack of this sort of guidance may result in problems," he said.
According to figures provided by the All-China Women's Federation, the country had 61.02 million left-behind children in 2013, with 2.05 million of them living alone without a guardian.
The Zhongmin Academy of Social Protection, a Ministry of Civil Affairs think tank, has released statistics showing that in Guizhou, one of the provinces that feature regularly in lists of children of absent parents, nearly 1.1 million children ages 1 to 16 were classified as having been left behind.