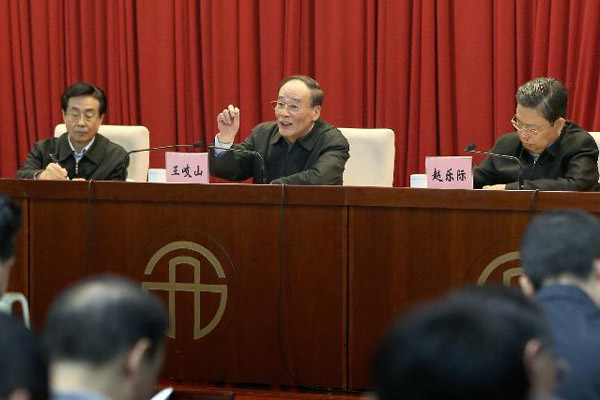 Wang Qishan (center), a member of the Standing Committee of the Political Bureau of the Communist Party of China (CPC) Central Committee and secretary of the CPC Central Commission for Discipline Inspection, addresses a conference on the work of central-level Party inspection in Beijing, China, Feb 11, 2015. [Photo/Xinhua]
China's top anti-graft watchdog has pledged to strengthen disciplinary inspections of Party and government departments this year in the fight against corruption.
Wang Qishan, head of the Communist Party of China Central Commission for Discipline Inspection, said on Tuesday that the commission will continue to carry out disciplinary inspection work this year targeting Party departments, State institutions and local governments.
Wang made there marks at a meeting called to discuss the inspection campaign, which has been launched by the commission to supervise Party and government departments in fighting corruption since the 18th Party Congress in 2012, when China's new leadership took office.
The meeting heard that the first round of inspections this year will target 32 Party and State departments as well as central institutions, including the Publicity Department of the Central Committee of the CPC, the Ministry of Justice and the National Tourism Administration.
Four provinces, including Liaoning and Shandong, which have been investigated will undergo a second round of inspections as the commission rechecks its work, according to a statement issued after the meeting.
Zhu Lijia, a professor at the Chinese Academy of Governance who specializes in public management and anti-graft studies, said that after years of inspections, the lack of internal supervision along with loose disciplinary requirements have been highlighted as loopholes leading to corruption.