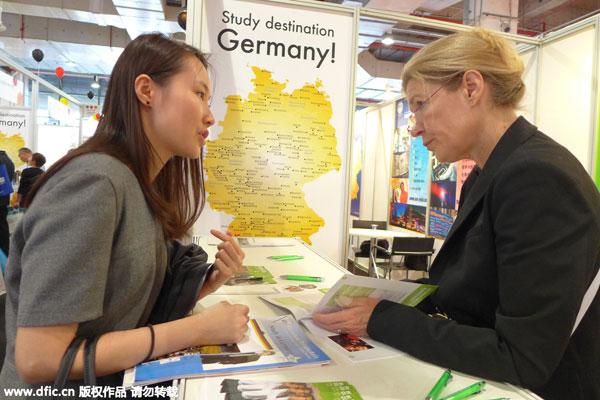 An education consultant from Germany, right, listens to a visitor during the 2014 China International Education Exhibition in Shanghai, Nov 2, 2014.[Photo/IC]
Nearly 40 overseas universities now accept Chinese college entrance exam scores as their admission criteria, state broadcaster CCTV News reported.
It said Chinese students with gaokao test scores can apply to world-class universities in more than 20 countries and regions, including the United States, Australia, Canada and Singapore and secure admission after an interview, bypassing TOEFL and SAT exams.
"We have received over 100 Chinese applications and those who meet the required gaokao score will have the chance to attend face-to-face interviews in early July in Beijing before being admitted to universities in the autumn", a member of staff in the China office of the University of San Francisco was quoted as saying by Chinese news portal The Paper.
"TOEFL and SAT scores can be improved in a short time, but Chinese gaokao can examine students' knowledge base after long-time study," said Stanley Nail, deputy director of the University of San Francisco.
College entrance exam scores have gained increasingly wide overseas recognition but it's still no easy job for every gaokao test taker.
Stanley, who is in charge of USF's enrollment in China, told CCTV News that although they changed admission criteria to gaokao test scores, enrollment of Chinese students "is still in the portion of five to ten people."
University of San Francisco is not the only benefit-provider as five other universities in the US, including Illinois Institute of Technology, Brigham Young University and Florida Saint Thomas University are all offering an olive branch to Chinese applicants.
Up to 26 universities in Australia including Sydney University, the Australian National University and Monash University also accept gaokao test scores, but require better language competence results. Students applying to Sydney University need to score at least 6.5-points in their IELTS.
Most colleges in South Korea, Singapore and Canada also follow the trend, while some European countries, such as Germany, have stricter criteria requiring scores to meet any of the 116 high-level Chinese universities listed in Project 211, endorsed by the Ministry of Education in 1995.
Applicants from the Chinese mainland will find that their test scores are more welcome in Taiwan, Hong Kong and Macao, according to an earlier China Daily report.
Up to 135 universities in Taiwan admitted mainland students with gaokao scores last year, while all eight universities in Hong Kong and six in Macao accept the scores.
Nearly 460,000 Chinese students went abroad last year, up by 11.09 percent compared with 2013, according to the Ministry of Education.
"It's good news for Chinese students as the national college entrance exam gains recognition in more countries, said Yang Jun, the education counselor of the Chinese Consulate to San Francisco. "Moves by the University of San Francisco saved time and effort for Chinese applicants to prepare for other admission tests".