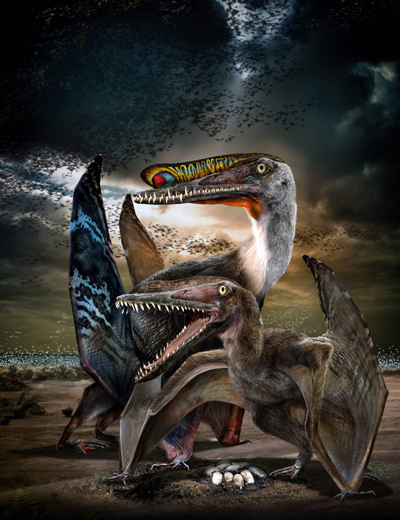 An artist's rendering depicts the Hamipterus, a pterosaur that lived at about the same time as dinosaurs. [Photo/Agencies]
The country's first pterosaur museum will be established in Hami prefecture, Xinjiang Uygur autonomous region, to display the precious collection of fossils found there, the local government said on Tuesday.
Also on Tuesday, the prefecture government and the Institute of Vertebrate Paleontology and Paleoanthropology of the Chinese Academy of Sciences opened a pterosaurs exhibition that will run for two to three months at Hami Museum.
Some of the pterosaur fossils and eggs being exhibited were unearthed from a site 100 kilometers south of the prefecture, which, according to scientists, is the best site for pterosaur fossils in the world.
"Since bones of pterosaurs are fragile and difficult to preserve, there are generally few well-preserved fossils that could help us reproduce the scene of pterosaurs' lives," said Wang Xiaolin, a professor from the institute who discovered the pterosaur fossils and has been conducting research in Hami since 2005.
The fossil-rich area in Hami holds thousands of bones, including three-dimensional male and female skulls as well as three-dimensional eggs, the first ever reported in the world.
During the opening ceremony for the exhibition, the prefecture government and the institute also signed an agreement to jointly protect and develop the pterosaurs site.
According to the agreement, the institute will actively explore and salvage the fossils of pterosaurs, dinosaurs and other ancient animals on the site, help the local government to establish a laboratory for specimen preparation, and open a pterosaurs museum-the first of its kind in China.
Pterosaurs lived at almost the same time as dinosaurs. While dinosaurs dominated the land, pterosaurs were masters of the sky in Mesozoic. They were also the first vertebrates with flying capability, 70 million years earlier than birds, which evolved from dinosaurs.
Alexander Kellner, a leading Brazilian paleontologist from Brazil's National Museum and Federal University of Rio de Janeiro, said the pterosaur fossils found in Hami provide unique information for scientific research.
"We can have a better understanding of how the pterosaur body changes from young to old, technically called ontogenetic variation. In this case (of Hami), we could even observe morphological variation between sexes-males and females differ from the expression of their head crests, with males purportedly having larger crests and a more robust end of the snout," he wrote in an e-mail to China Daily.
Zhou Zhonghe, a leading paleontologist in China and director of the CAS institute, said the local government and the institute should protect the unique pterosaur site in two ways.
"First, since 'The Demon's Castle', where the pterosaur site is located, is already a famous tourist spot, we should protect the fossils from being stolen by people.
"Second, we have to carry out rescue excavation on those fossils that are already exposed to the windy and dusty weather of the desert," he said.