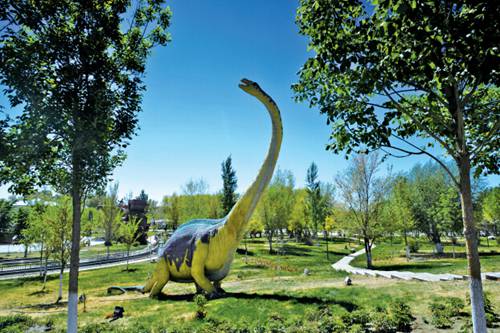 A "dinosaur" walks in the forest in the Karamay Dinosaur Park, Karamay, Xinjiang. [Photo/epaper.kelamayi.com]
As the new movie Jurassic World hit the screen recently, causing a revived dinosaur fever, search for giant reptiles has started in earnest. However, you don't need to look afar. Karamay Dinosaur Park offers you to experience the scenes in the movie and the opportunity to stay close to "dinosaurs".
Karamay Dinosaur Park is the only dinosaur-themed park in Xinjiang Uygur autonomous region. It is located in the Urho district and covers 56,000-square-meter area.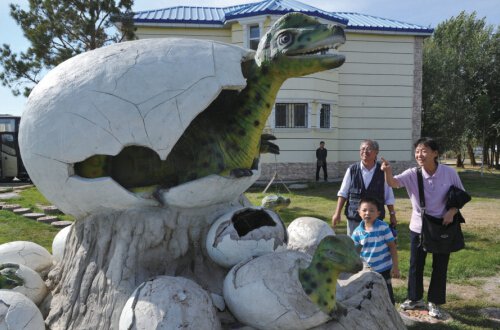 A baby dinosaur cracks out of its eggshell. [Photo/epaper.kelamayi.com.cn]
The park simulates the Cretaceous Period and accommodates models of 16 varieties of dinosaurs that lived in that period. Eight dinosaur totem pillars and a cast iron dinosaur skeleton on the central square of the park demonstrate the birth, growth, reproduction, evolution and extinction. From a bird's eye view, the waterways in the park are shaped like a dinosaur's body.
Urho is known as one of the "dinosaur towns" in China. Experts dug out a set of skeletal fossils of a pterosaur in the southeastern part of Urho in July 1964. After that, fossils of six kinds of dinosaurs were also found in the same area.
Experts say that Urho area used to be a huge lake in Cretaceous and was a habitat of many kinds of dinosaurs. With crustal movements, dinosaurs died out and the lake became a land of shale and sandstone. Their skeletons, therefore, were buried in the rock stratums.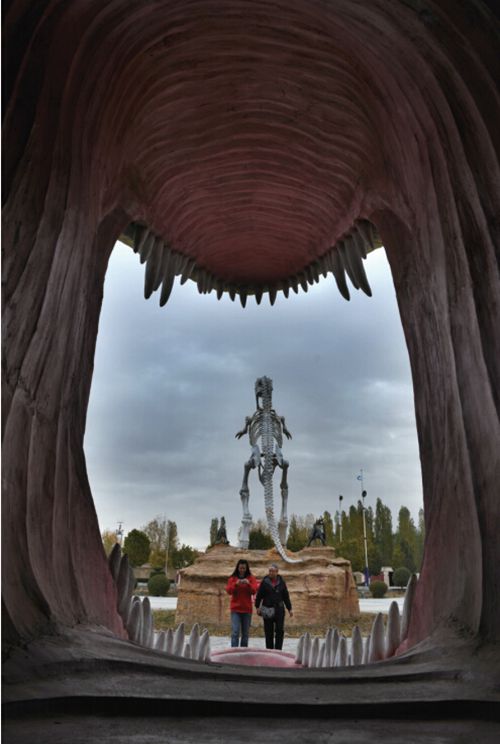 Tourists walk through a tunnel shaped like a dinosaur's mouth. [Photo/epaper.kelamayi.com.cn]
Edited by Mevlut Katik