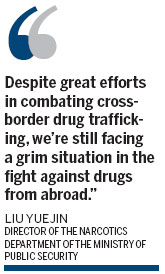 Drugs smuggled from abroad, including Southeast Asia and some Central and South Asian countries, are the main sources of underground drug use across China, according to a senior anti-drug official from the Ministry of Public Security.
"Despite great efforts in combating cross-border drug trafficking, we're still facing a grim situation in the fight against drugs from abroad," Liu Yuejin, director of the ministry's narcotics department, said in an exclusive interview.
Figures from the ministry show more than 90 percent of heroin and methamphetamine tablets available through China's black market come from Southeast Asia.