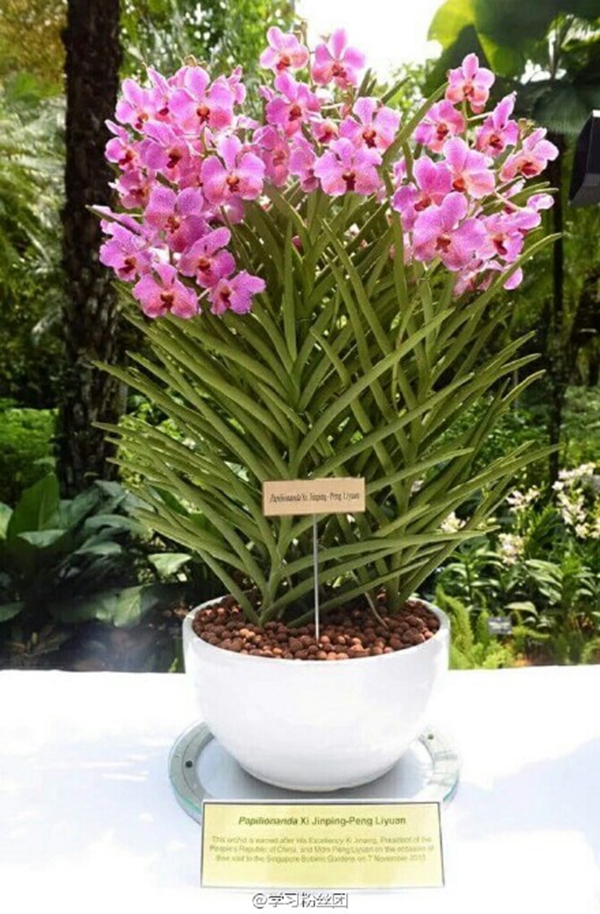 The orchid was named Papilionanda Xi Jinping-Peng Liyuan. [Photo/Sina Weibo]
Orchid-naming is Singapore's special way of welcoming important guests. The National Orchid Garden at the Singapore Botanic Gardens houses VIP orchids named after state dignitaries such as Paravanda Nelson Mandela and celebrity orchids such as Dendrobium Jackie Chan.
Stefanie Sun, the Singapore singer who has captured the hearts of millions worldwide, also had a pure white Dendrobium named after her. In 2006, she became the first local celebrity to be so honored.
One of the latest attractions at the VIP Orchid House is the orchid named after Singapore's founding father, Lee Kuan Yew — a bright golden yellow upright spray named the Aranda Lee Kuan Yew.
It is a fitting tribute to him. As far back as 1963, he encouraged the greening of Singapore, launching massive treeplanting campaigns and setting up a parks and recreations department responsible for the transformation of the Garden City.
Orchid breeding and research became a part of that tradition, and also helped spin off a major export industry of extremely high value.
In spite of its size, Singapore has shown that every space can be a garden, even halfway up the skies.