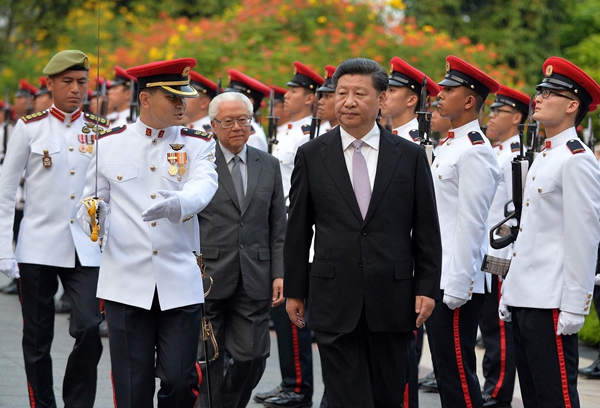 President Xi Jinping, followed by Singapore President Tony Tan Keng Yam, reviews the honor guard during a welcoming ceremony at Istana presidential palace in Singapore on Friday. Xi arrived in Singapore for a state visit. MOHD FYROL/AFP
SINGAPORE - China and Singapore agreed on Friday to redefine their ties as a partnership of all-round cooperation keeping with the times during Chinese President Xi Jinping's visit to the city-state.
The two countries also decided to launch negotiations on an upgrade of a seven-year-old free trade agreement (FTA).
The decision was announced after a meeting between Xi and his Singaporean counterpart, Tony Tan Keng Yam.
It was Xi's first visit to Singapore as Chinese president. This year marks the 25th anniversary of the establishment of diplomatic ties between the two countries.
China is willing to work closely with Singapore and seize the momentum to elevate bilateral ties to a new height, Xi said.
To this end, the Chinese president suggested that both countries continue frequent exchanges of high-level visits and provide leadership guidance, so as to keep the development of bilateral ties in the right direction.
He also called on the two countries to break new ground for practical cooperation, and push forward the construction of the third government-to-government project with the southwestern Chinese city of Chongqing as an operation center.
In addition, he said, China and Singapore should strengthen cooperation in regional and international affairs.
Xi added that as Singapore takes turn as a coordinator country of China-ASEAN relations this year, China is willing to join hands with Singapore to build a community of common destiny between China and the 10-member regional bloc.
The Chinese president reiterated his country's path of peaceful development and good-neighborly policy, saying China is willing to cooperate with Singapore and other Asian countries to achieve common development.
Tan, for his part, said Xi's state visit is set to elevate Singapore-China cooperative partnership to a new height.
Frequent exchanges of high-level visits, the success of two existing government-to-government projects, and the proposed third project in Chongqing will all inject fresh momentum into bilateral ties, he said.
The Chongqing project will support the Belt and Road Initiative, proposed by Xi in 2013 to revive the ancient trade routes that span Asia, Africa and Europe, and provide a springboard to propel bilateral ties to a new level in the next 25 years, he added.
China and Singapore currently have two government-to-government projects -- the Suzhou Industrial Park established in 1994 in China's eastern province of Jiangsu, and the Tianjin Eco-city inaugurated in 2008 in the northern Chinese port city of Tianjin.
Tan also said the China-Singapore FTA upgrade, once sealed, will serve as a pathfinder for the two countries' participation in regional economic frameworks, such as the Regional Comprehensive Economic Partnership (RCEP), as well as for an upgrade of the ASEAN-China FTA.
Xi flew to Singapore after wrapping up his state visit to Vietnam, another ASEAN nation.
China-Singapore cooperation has become wide-ranging and multi-faceted over the past 25 years, with two-way trade and personnel exchanges jumping by 28 times and 25 times, respectively.
According to data from China's customs, China is now Singapore's biggest trading partner with two-way trade hitting $79.74 billion in 2014.