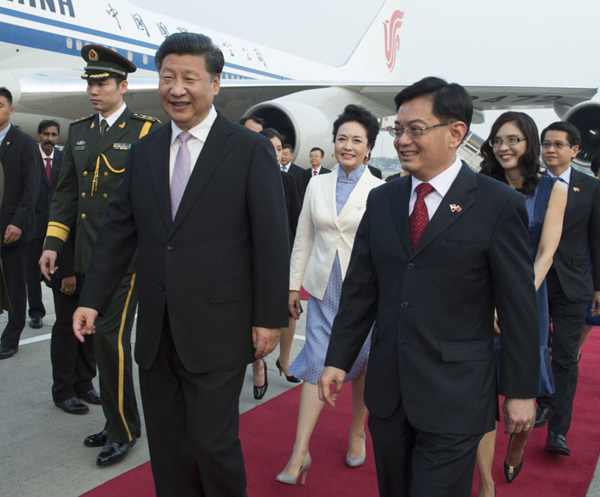 Chinese President Xi Jinping (L) arrived in Singapore on Friday. [Photo/Xinhua]
SINGAPORE - Chinese President Xi Jinping arrived in Singapore on Friday for a two-day state visit to the Southeast Asian nation at the invitation of his Singaporean counterpart Tony Tan Keng Yam.
This is Xi's first visit to the city-state as Chinese president. It is also the first state visit hosted by Singapore after the Sept. 11 election.
Singaporean President Tan visited China from late June to early July. Thus it is also the first time that the two countries' head of state exchange visits during the same year, coinciding with the 25th anniversary of the establishment of China-Singapore diplomatic ties.
In 2014, bilateral trade hit 79.74 billion U.S. dollars, a 28-fold increase over two decades ago.
During his visit, Xi will meet with President Tan and Prime Minister Lee Hsien Loong respectively, and will also attend a state banquet hosted by President Tan.
The China-Singapore cooperation has always been forward-looking and pace-setting, as the two countries will redefine their relations to keep abreast of the times and expand to various areas, said Chinese Ambassador to Singapore Chen Xiaodong.
China and Singapore are expected to announce the third government-to-government project besides the Suzhou Industrial Park and Tianjin Eco-city during Xi's visit.
The new inter-governmental project will be located in western China, and focused on inter-connectivity and modern service industry, as China has put forward the Belt and Road initiative.
Leaders of the two countries will jointly promote the upgrading of a bilateral free trade agreement. The two countries will sign an array of cooperation agreements on education, customs, finance and urban governance.
Xi will also deliver a speech on China-Singapore, China-ASEAN relations as well as regional situation.
Singapore took the rotating seat as coordinator for China-ASEAN relations this August. The China-Singapore relationship has been a pioneering example for China-ASEAN relations.
Xi flew to Singapore just after he wrapped up his state visit to Vietnam.