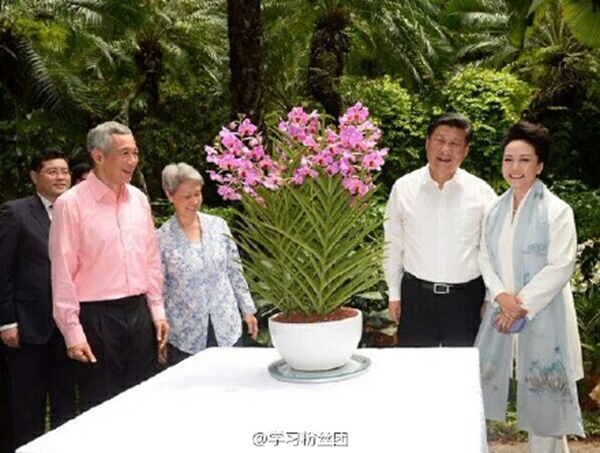 A new variety of orchid was named after Chinese President Xi Jinping and his wife at the naming ceremony held in Singapore Botanic Gardens on Saturday. [Photo/Sina Weibo]
With its widespread wings it looks set to take off and be true to its name, Papillonanda, after the butterfly. The Papillionanda, named after the Chinese president, is a delicate pink orchid that has taken years to perfect and is Singapore's gift to Xi Jinping and the first lady.
Xi's visit also marks 25 years of diplomatic exchanges between the two countries.
Singapore likes to mark milestones and friendships with the gifting of orchids and there is a special enclosure within the UNESCO World Heritage-recognized Botanic Gardens that protects these valuable plants.
This is the colonial-style bungalow known as Burkhill House, just inside the Orchid Gardens.
Here, a beautiful white orchid was named Dendrobium Memoria Princess Diana. Years later, another purple-spotted and sensually lipped orchid was named Vanda William-Catherine after her son and his princess. Queen Elizabeth II already has a stately Dendrobiu mnamed after her.
Prime ministers are honored as well,with the late Margaret Thatcher, former prime minister of the United Kingdom, getting an orchid during her visit to the Singapore Botanic Gardens in 1985.
David Cameron, the incumbent, has the Papillionanda David Cameron.