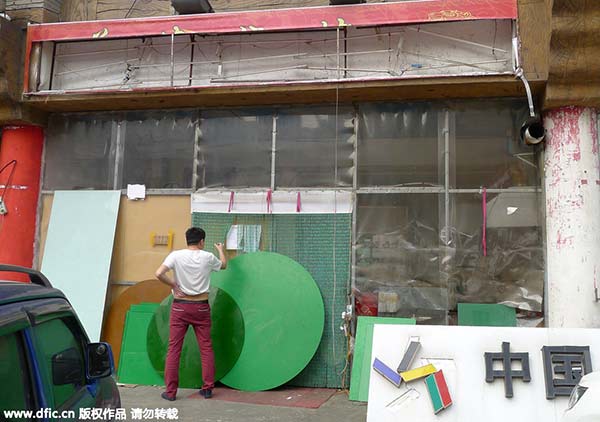 The restaurant has been shut down. Photo taken on Oct 7, 2015. [Photo/IC]
QINGDAO - A restaurant and local officials in the eastern Chinese city of Qingdao have been given tough punishments after a public outcry forced authorities to act on the eatery's misleading pricing of seafood.
A diner said he ordered a prawn dish marked as 38 yuan ($6 dollars) on the menu of Shande Live Seafood and Barbecue in Qingdao, a popular tourist spot, during the week-long National Day holiday, which finished on Wednesday. He nearly pulled a muscle when he was asked to pay 1,520 yuan because the price was per prawn, a fact only stated in small print on the menu.
The man immediately sought intervention from the government but to no avail. He later reported the incident on Sina Weibo, China's equivalent to Twitter, attracting huge attention.
Chinese travelers routinely complain about exorbitant pricing during holidays, as well as local governments' failure to remedy the situation.
In this case, many took to social media to ridicule the restaurant and Qingdao. The city is on the coast of Shandong Province, which has spent years promoting itself as "Hospitable Shandong" to attract tourists.
News outlets also piled on, with China's state broadcaster devoting prime time to the scandal.
As calls for action mounted, the restaurant and officials who were supposed to be supervising it have eventually felt the long tentacles of the law.
Qingdao's municipal government has revoked the restaurant's license and fined it 90,000 yuan. An official in charge of market regulation in Shibei District, where Shande Live Seafood and Barbecue was located, has been suspended.
Other officials, with responsibility for pricing and tourism, have been given official warnings, according to the local government.
It also vowed to rescue its reputation after this fishy tale by cracking down on unfair business practices.