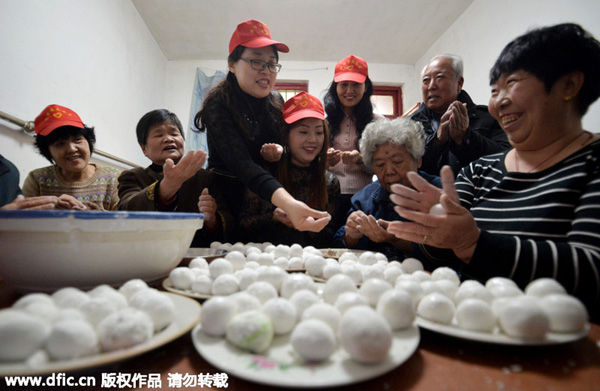 Volunteers and empty-nest seniors make Yuan Xiao, a typical food for Lantern Festival, in Handan, Hebei province, March 3, 2015. [Photo/IC]
BEIJING - Qian Liqun, a former professor at the Department of Chinese Language and Literature of Peking University, chose to spend his remaining years with his wife in a nursing home after retirement.
As his colleague in Peking University Wen Rumin wrote in his personal Weibo account, Qian would continue his literature research and writing.
Though some people questioned the intelligence of the decision by Qian, a famous intellectual, an increasing number of China's senior citizens now choose to live in nursing homes rather than spend their remaining years with their offspring at home.
Fortunately for them, modern telecommunications technologies, particularly social networking, has made them feel closer to their children.
Gao Lanzhi, 75, lives her life in full without the feeling of loneliness and fear, although her daughters live abroad.
One year ago, she moved to the Happiness Senior Citizens Care Center, a private nursing home in west Beijing. Her single room was filled with books and daily necessities. Chinese calligraphy, singing, photography, baking... Gao has many things to do. As she said, "This is my home."
She received a knee surgery last year. But after that, she did not hire a nurse to look after her at home. "I cannot bear facing just one person all day long,"she said. Thus she moved to the care center, where she found the company of 200 others.
She used to worry about the impatience and lack of professionalism of the staff at the nursing home. But she believes that hobbies and friends are extremely important for old people, especially in their remaining years.
"The nursing home provides me a quiet and reliable place to do what I like and to meet more peers," Gao said.
Gao's optimism and engagement in life are not commonly seen among elderly Chinese.
"Most of them usually feel panic and loneliness when they are first taken here by their sons or daughters," said Hu Tongwei, director of the Happiness Senior Citizens Care Center. Some of them can adjust to the new environment, while others cannot.
Wang Jianjun, standing deputy director of the national working committee on aging, acknowledged that China's population would enter a stage of accelerated aging.
By the end of 2014, the number of elderly Chinese above 60 years old was 212 million, about 15.5 percent of the country's total population. The number is expected to reach 480 million by the end of 2050.
More and more old people would have to live alone, without the companionship of their children.
"At that stage, the nursing home will be a greater necessity, compared with previous years," Hu Tongwei said.
Tweeting sunset
On Gao's desk, there are two of the latest smart phones and an iPad. She enjoys capturing unforgettable moments and sharing them with her children via WeChat.
As a matter of fact, seniors in China are owning more and more electronic gadgets. And many of them have mastered applications on smart phones.
Nowadays some Chinese tech companies have taken on the project of connecting the elderly with their relatives, communities, and hospitals, using big data on the Internet. They are integrating resources from all fields to build up a comprehensive platform to serve aged people.
The data from daily life, including health index, could be collected and uploaded through wearable devices to the cloud platform. And the family members, living afar, could receive simultaneous updates. Meanwhile, the hospitals collect the relevant data as well, enabling timely medical service.
In 2013, the State Council issued several suggestions on accelerating the aged care service industry and asked the local governments to support enterprises in applying the Internet and other new technologies to the industry.
"The high-tech applications would ease the burden on the children," Gao said.
Unbalanced distribution of resources
The Happiness Senior Citizens Care Center provides 300 single and double rooms, with the monthly price from 3,800 to 6,000 yuan, as well as different kinds of nursing levels. The center is almost full now.
The other state-run or private nursing homes in China's big cities also see a similar occupancy rate. "Some old people even have to wait for several months in order to live in the reputable state-run nursing homes in Beijing," Gao Lanzhi said.
However, a newly released report on China's nursing homes showed that the vacancy rate was 48 percent.
This is mainly due to the low occupancy rate of the nursing homes in rural areas, said Wu Yushao, the director of China Research Center on Aging.
With young people from the rural areas moving to the big cities for work, some of their parents were also taken along. Hu Tongwei said, "They hope to give the parents better nursing service in big cities."
China now has more than 5.50 million nursing beds for old people. There is an average of 26 beds per 1000 old people. The Ministry of Civil Affairs promised to accelerate the development of the old-age care services nationwide and increase the number of nursing beds per 1000 old people to 30 by the end of this year.
Wu Yushao suggested that there should be a screening system to ensure that those most in need are admitted to nursing homes.
"Without the evaluation of the physical and economic conditions, some healthy and rich old people with lower ages currently occupy the nursing resources," Wu said. "Those without the ability to care for themselves and in financial difficulty are kept outside."
Professional shortage
The aged care service industry in China also faces the awkward situation of lacking qualified professionals.
Before living in the Happiness Senior Citizens Care Center, Gao Lanzhi visited and evaluated several other nursing homes including state-run and private ones.
When she found some nursing staff lost patience in dealing with the daily affairs of the residents, Gao hesitated about going to the nursing homes.
"Old people care requires professional nursing staff more than expensive facilities," Gao said.
"They should listen to our complaints, offer timely medical service, and know how to make our diet balanced," Gao suggested.
There is a staff of 24 at the Happiness Senior Citizens Care Center, ranging from 30 to 50 years old.
"Most of them are middle-aged women having relevant working experience," Hu Tongwei said, "but without professional aged care training."
It is quite common for the nursing homes around China.
China's Ministry of Civil Affairs has set the national professional standard for the aged care staff. There are over one million people engaged in the nursing service industry all over the country. But only less than 40,000 of them meet the standard.
With the booming aged care service industry, Gao, who worked for continuing education before retirement, suggested it's high time for governments to increase the training of nursing home workers.