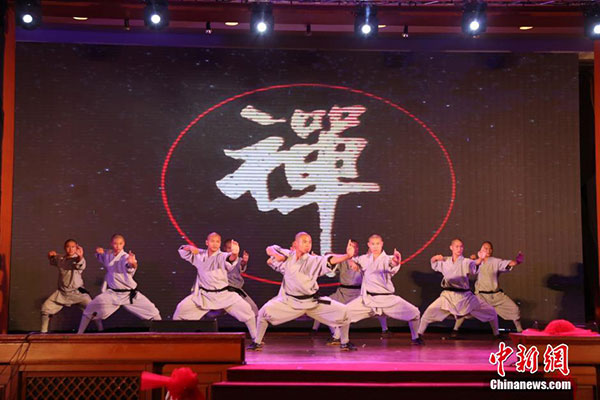 Shaollin Buddhist perform in Bangkok, Aug 2, 2015. [Photo/Chinanews.com]
BANGKOK - Monks from China's Shaolin Temple gave a performance of Chinese kungfu here on Sunday night as part of their six-day visit to Thailand to promote Buddhist cultural exchanges.

Shaolin Abbot Shi Yongxin, who is embroiled in a scandal, had been due to lead the delegation to Thailand but failed to show up at Sunday's performance. The abbot has now been accused of paying for sex with several women, including Buddhist nuns and some of his female followers.

In a letter of apology sent to the Thai organizer, the abbot explained that he got too tied up with work to come in person.
Shi Yongfu said that Shi Yongxin would arrive in Thailand later during the visit but did not disclose the exact time.
The delegation will also visit northern Chiang Mai province for some Buddhist ceremony.
The Shaolin Temple, built in the late fifth century and located in central China's Henan province, is the birthplace of Zen Buddhism and the cradle of Chinese kungfu.
A spokesperson with the State Administration for Religious Affairs (SARA) said it has "paid great attention" to reports about Shi Yongxin, abbot of Shaolin Temple in central China's Henan Province and vice-chairman of the Buddhist Association of China (BAC).
SARA has asked Henan provincial religious department to verify the accusations against the abbot.
Shi Zhengyi, the accuser, posted a series of allegations on the Internet and said Shi Yongxin was an "embezzler and womanizer" with illegitimate children.
The list of accusations included documents purportedly showing that Shi Yongxin was kicked out of Shaolin in the 1980s following a theft.