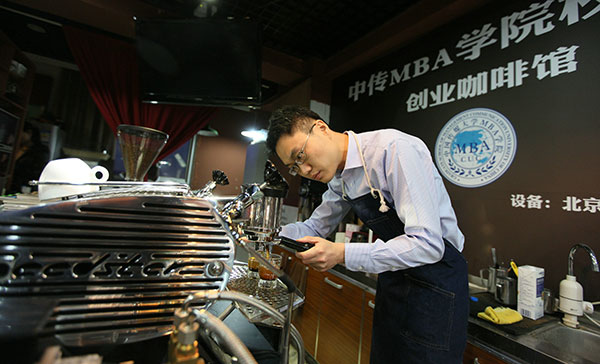 Liang Chen, 33, who graduated with an MBA from Communication University of China in 2012, works at the coffee store he founded near the school in Beijing. His business is brisk and he is planning to expand his business.[A JING/CHINA DAILY]
While a large number of Chinese business schools are celebrating their 30th anniversary this year, students' satisfaction levels are waning, especially when it comes to salary increases and promotions.
According to the latest MBA survey, conducted by global recruitment service provider BRecruit among 300 MBA students in Shanghai, half of the students were dissatisfied with the employment services that business schools have offered, saying that more practical opportunities and better communication with companies should be provided.
The surveyed MBA students come from 13 business schools including China Europe International Business School, Antai College of Economics & Management at Shanghai Jiao Tong University and the School of Business at East China University of Science and Technology.
Meanwhile, only 43 percent of the interviewed MBA students said that they are satisfied with the salary increase and promotion they gained upon graduation, while the majority think they have not reaped enough rewards for their hard work.
Tuition gets the lowest score of the items surveyed, with 60 percent of the respondents saying that they are dissatisfied with it. The tuition fees for MBA courses in China this year have ranged from 45,000 yuan ($7,244) to 388,000 yuan.
Liu Ming, 31, has just finished his MBA course at Shanghai University of Finance and Economics. But little has changed in his career or salary since his graduation. He is still working as a human resources manager, the job he did for five years before taking the MBA course. Even though his salary is 30 percent higher now, he does not seem content with the result.
"If given a second chance, I would definitely not go for an MBA. It's not worth the money. I paid 88,000 yuan for my tuition and yet it is too early to say when and how I will see that investment coming back. I did make more connections during the course, but most of them are at my level. Therefore, it will again take more time to tell if these connections will become more beneficial," said Liu.
"Students who joined the school one year later than I did had to pay a much higher 138,000 yuan tuition. Knowing that I didn't pay such a high price is the only thing that can cheer me up right now," he added.
But experts suggest that MBA students should be more open-minded when thinking of business education.
Guo Guangchang, chairman of Fosun Group, said that everyday meetings, topics for discussion and errands that are carried out are the best MBA education offered to employees.
Shaun Budnik, partner of Deloitte LLP, said in an open interview with the global accreditation organization of management education, AASCB International, that "education is just the start of a journey".
"The world is changing so rapidly that you should keep learning and developing throughout your career. You'll probably learn most working with those who are least like you. You are likely to learn more when your workplace is inclusive and to do your best work when your team is built from diverse strengths. You have lots to learn and something to teach as well," she advised MBA students.
At the same time, however, business schools should catch up with the latest trends, Budnik said. "It's important to be prepared for a borderless world in which talent has greater global mobility than ever before," she said.