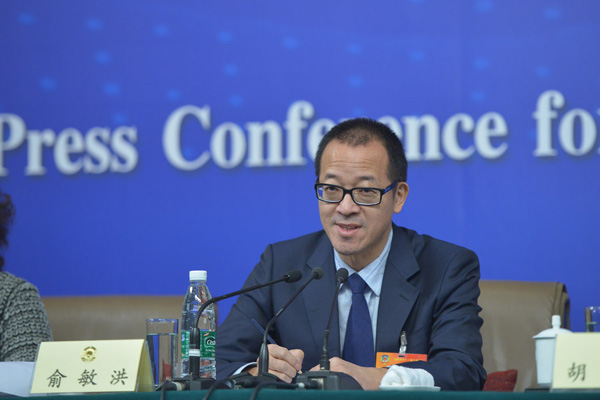 Yu Minhong speaks at a press conference on the sidelines of the two sessions, March 11, 2015. [Photo/Xinhua]
A national political adviser has called for education reform to promote mass innovation.
"Innovation demands one's independent thinking, imagination and creativity, which lies in education," said Yu Minhong, a member of the National Committee of the Chinese People's Political Consultative Conference and president of New Oriental Education & Technology Group, on the sidelines of the two sessions.
A fundamental change that should be made at primary and middle schools is to allow more than one standard answer for each question, Yu said.
Current Chinese education has been criticized by many for being rigid and killing students' imagination. In many exams, students are supposed to memorize the standard answer instead of putting forward their own ideas.
"Innovation requires the ability to seek different answers to the same question, through which they still reach the right destination," he said.
The reason for lack of innovation in the country is that students' way of thinking has been restricted at school, Yu said before a meeting of the CPPCC earlier in the week.
Meanwhile, Yu suggested that primary and middle schools add courses to stir students' inspiration and imagination.
"If we carry out necessary reforms at school, innovation will be no problem in the future," he said.
"It is right for the government to encourage mass entrepreneurship and innovation," Yu said on Wednesday, "but education reform should be the solution for China to join the top countries in innovation in the future decades".