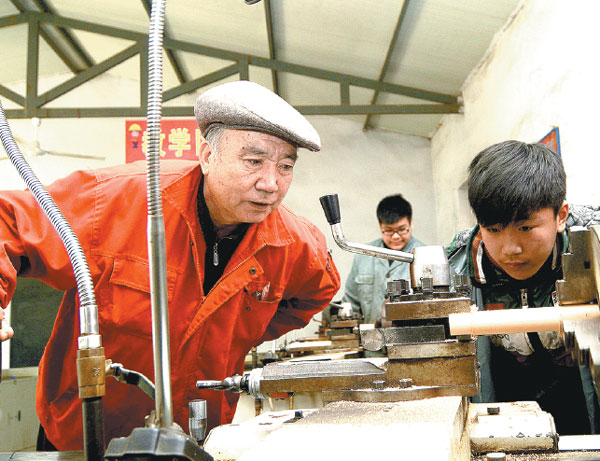 Students learn to operate lathes under the guidance of a teacher at a training center in Jinzhou, Liaoning province, in March. The central government is pushing for more universities to become vocational colleges because China needs more graduates to work in the manufacturing industry. Li Tiecheng / for China Daily
Local tertiary institutions should cater to the economic and social needs of the community by focusing on their strengths, according to the president of Jilin University. "For universities, it is important that they work on their unique characteristics...No single institution can cover all programs. We need to determine the various types of universities that can focus on research, teaching and technical areas," said Li Yuanyuan, who is also a deputy of the National People's Congress.
Li, saying the country's stage of development calls for more technical expertise, agreed with the central government's push for more universities to become vocational colleges.
Premier Li Keqiang said in his Government Work Report early this month that the country will encourage local colleges to become "applied colleges".
"We will work comprehensively to promote the development of a modern vocational education system. We will guide a number of local undergraduate institutions to transform themselves into applied colleges," he said.
Li Jianbao, an NPC deputy and president of Hainan University, said, "Our society needs practical talent and our country needs young graduates to work in the manufacturing industry."
The policy will help meet the needs of society and future trends, he said.
Wang Zhigang, an NPC deputy and president of the Agricultural University of Hebei province, said the proposal encourages universities to focus on students' practical skills.
"Some majors in our school certainly require practical experience at enterprises or in the field. It is impossible to teach students planting on a blackboard," Wang said.
Figures from the Ministry of Education last year showed that the country has 2,542 higher education institutions and more than 1,300 higher vocational colleges, with 1,200 of them offering bachelor's degrees, and 600 of them administered by local governments.
During a forum in May, Lu Xin, vice-minister of education, said that more than 600 local undergraduate institutions will gradually transform into "applied colleges". Lu called the move "revolutionary reform in China's higher education".
Practical skills
In 1999, more than 600 higher vocational colleges were upgraded to four-year universities, an expansion that helped increase the number of graduates. This year, the number is estimated to hit 7.49 million.
Compared with vocational college graduates, university graduates lack practical skills that are urgently needed, said Li Zhen, an NPC deputy and director of the Jilin Education Examination Authority.
"University graduates also have higher job expectations," she said. "They often prefer to stay at home if they don't find suitable positions."
Vocational college graduates are more pragmatic, she said.
University presidents said the latest calls for reform must be carried out carefully.
"Municipal authorities should plan accordingly to allow a few schools to retain their research capabilities, based on regional development plans," said Jilin University's Li Yuanyuan.
As the leader of the top-ranking comprehensive university in Northeast China, he said the core of a university is to "explore the unknown".
"Exploration triggers innovation," he said, suggesting that three to five research or teaching-plus-research universities should remain in Jilin province.
Hainan University's Li Jianbao said the policy should not apply to all universities because "the function of a university is not just for employment".
A university also nurtures student innovation, he said, adding that the policy should target the new universities that were upgraded from vocational colleges a few years ago.
Contact the writer at luowangshu@chinadaily.com.cn