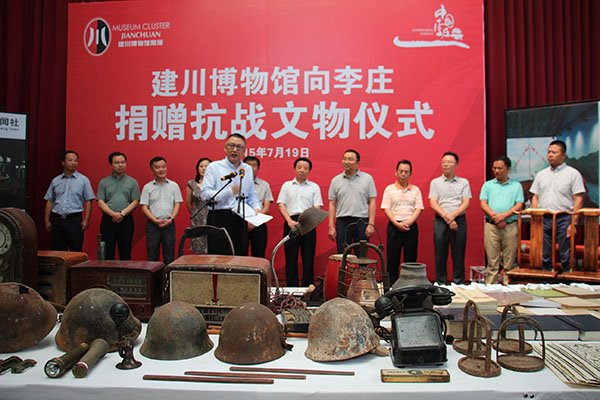 Fan Jianchuan, center, curator of the Jianchuan Museum Cluster, introduces the war-time artifacts during a donation ceremony in Dayi county, Sichuan province. July 19, 2015. [Huang Zhiling/www.chinadaily.com.cn]
Visitors to the Jianchuan Museum Cluster in Dayi county, Sichuan province, were impressed with Japanese helmets on display at a donation ceremony on Sunday.
Confiscated by the Chinese Expeditionary Forces in the Battle of Songshan in Yunnan province in 1944, the helmets were among some 1,300 artifacts relating to the War of Resistance against Japanese Aggression (1937-45) donated by the Jianchuan Museum Cluster to six galleries in Lizhuang town in Yibin, Sichuan.
After the outbreak of war, a dozen institutions relocated to Lizhuang which was not occupied by the Japanese. They included two institutes of Academia Sinica, the Central Museum, the Society for the Study of Chinese Architecture, Tongji University and the College of Literature of the University of Nanjing.
"Many famous scholars arrived at Lizhuang with the institutions and turned the town in the upper reaches of the Yangtze River into one of China's four war-time cultural centers together with Chongqing, Kunming and Chengdu," said Fan Jianchuan, curator of the Jianchuan Museum Cluster.
During his six-year stay, Liang Sicheng, a famous scholar of architecture, visited most of the ancient structures in Sichuan. With the help of his wife Lin Huiyin, he compiled the "Chinese History of Construction," the first book of its kind in the country.
Lizhuang has six galleries commemorating the institutions as well as Liang and Lin. Artifacts donated include a report on losses during the war written by Academia Sinica and a wooden box used by the Central Museum to transport cultural relics from Nanjing, capital of the Nationalist Government, to Lizhuang.
"Many of the artifacts on display remind the suffering of the Chinese nation during the war and the value of peace," said Jia Chengqi, an 84-year-old visitor.
To reopen the Burma Road, which transported weapons and other cargo from India to Yunnan province as China's land and water routes were cut off by the Japanese, the Chinese Expeditionary Forces fought Japanese soldiers stationed on Songshan Mountain covering 18 square kilometers in Longling county, Yunnan for nearly 100 days in 1944.
They wiped out all 1,300 Japanese soldiers on the mountain but 7,763 Chinese soldiers also lost their lives.