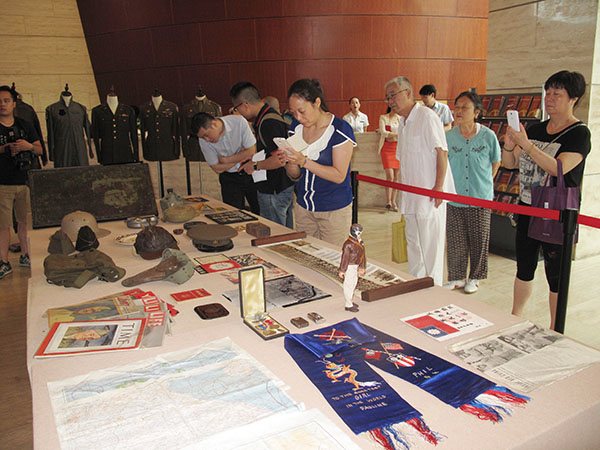 Visitors take an interest in artifacts donated by Pedro Chan, a Chinese American, at the Jinsha Site Museum in Chengdu. [Photo by Huang Zhiling/www.chinadaily.com.cn]
Visitors to the Jinsha Site Museum in Chengdu, Sichuan province, were impressed with a so-called "blood chit" on display at a donation ceremony on Tuesday.
The chit, or receipt, was one of 358 artifacts of American pilots who fought against invading Japanese in China during World War II donated by Pedro Chan, a Chinese American.
The relics which include military uniforms, medals, kettles, caps, a fork, a spoon, a compass, a holster, lighters, photos, magazines, maps, 10 letters written by American pilots to their families and loved ones, leaflets airdropped in Japan seeking its surrender at the end of the war, and the chit will be on display at Chengdu Museum which will open next year, said Wang Yi, curator of both the Jinsha Site Museum and Chengdu Museum.
The chit reminded Chinese visitors of the Sino-US friendship forged in the winds of war.
"American pilots shot down more than 2,500 Japanese planes during the war. To save them after their planes were shot down by Japanese, the China Aviation Association made the chit and had it sewn on the back of their flying suits," said Fan Jianchuan, curator of the Jianchuan Museum Cluster in Anren, Sichuan.
His museum has a hall dedicated to American pilots known as the Flying Tigers in China.
Thanks to the chit bearing Chinese words which translate as: "Both soldiers and civilians must protect the foreigner who assists China in the war," lives of many American pilots were saved.
Before an American B-29 bomber hit the mountains and broke into pieces in Leibo county, Sichuan, in April 1944, 10 of the 11 crew members managed to parachute to Yue'erpo, a village inhabited by the Yi people.
Villagers were scared because they had never seen a foreigner before. But they saw the blood chit sewn on the back of the Americans' flying suits.
"An Dengwen, a headman of the Yi people, took the 10 American pilots to his home, treating them with beef and mutton. They lived in his home for a month before I and an American major trekked rolling mountains to find them," said Li Shi'an, a former official of the Nationalist Government.
Chan, a native of Panyu, Guangdong province, started collecting artifacts pertaining to World War II in 2007 and donated some 1,000 to museums in Beijing, Chongqing, Yunnan and Hunan provinces and Gaungxi Zhuang autonomous region.
He said he donated the artifacts to Chengdu because it was an important base for American pilots who took off to bomb Tokyo and Japanese-occupied areas.