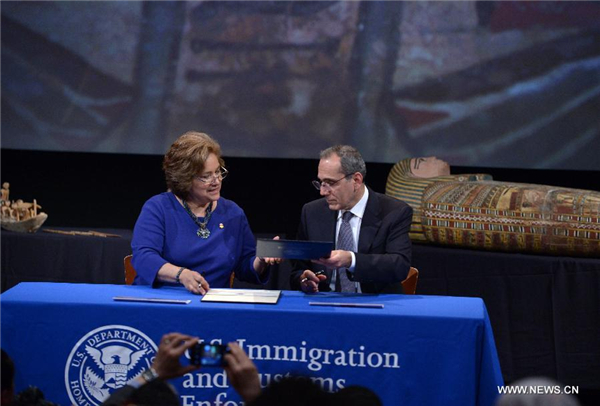 U.S. Immigration and Customs Enforcement (ICE) Director Sarah Saldana (L) and Egyptian Ambassador to the United States Mohamed Tawfik sign documents for repatriating artifacts at the National Geographic Society in Washington DC, capital of the United States, April 22, 2015. [Photo/Xinhua]
WASHINGTONUS - US Immigration and Customs Enforcement (ICE) on Wednesday returned dozens of illegally smuggled ancient artifacts to Egypt, including a Greco-Roman style Egyptian coffin.
"Preserving mankind's cultural heritage is an increasingly difficult challenge in today's society. To think that some of these treasured artifacts were recovered from garages, exposed to the elements, is unimaginable," said ICE Director Sarah R. Saldana at a repatriation ceremony at the Washington-based National Geographic Society.
The returned coffin, which was recovered from a garage in Brooklyn, New York, in 2009, dated back to a period between 664 BC and 111 BC, and was part of a collection of more than 7,000 artifacts recovered as a result of an ongoing five-year ICE investigation called "Operation Mummy's Curse," which targeted an international smuggling network.
Other returned Egyptian artifacts included 65 ancient coins, two Middle Kingdom wooden boat models and a series of finely carved limestone reliefs from an Egyptian temple.
"Across the Middle East and North Africa, places of treasures are plagued by looting, illegal trade and senseless destruction. They simply disappeared. Scholars could not study them. Museums could not display them. Their stories are silenced forever," said Egyptian Ambassador to the United States Mohamed Tawfik at the ceremony. "It's imperative that all governments end this insidious cycle. We can only stop this horror together through international cooperation to seize antiquities... and then (to) work with counterparts from other governments to repatriate them to their countries of origin."
Earlier this month, ICE returned another patch of artifacts to the Iraqi government, including items dating back to more than 4, 000 years.