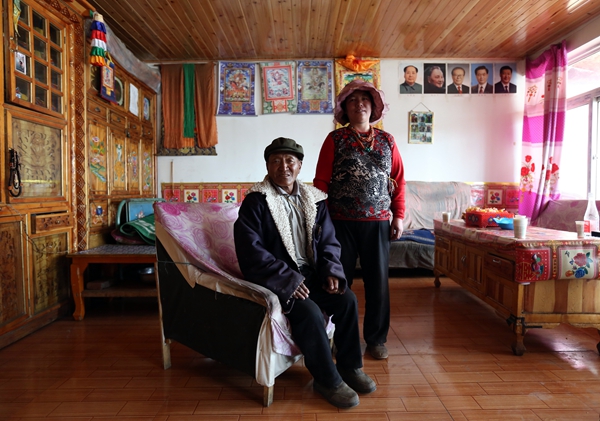 Pedor and his wife in their house in a relocation village built for former herdmen.[WANG JING/CHINA DAILY]
Ecological refugees
Pedor, a 72-year-old herdsman from the Tibetan ethnic group, recalled the situation in the 1990s. "The lakes dried up, the land became grassless. Our livestock became weak and thin, but they were our only source of income," he said.
In 2000, he decided to sell all his livestock-about 50 yaks and 1,500 sheep-and move to the county town in answer to the government's call. He said that when his village was founded in 2006, the local authorities provided a resettlement fund of 40,000 yuan ($6,446) per household, and later gave every family a further 100,000 yuan to upgrade their houses with modern amenities.
Each family owns a house of more than 60 sq m, and has a 122-sq-m yard. In addition to electricity from the local hydropower station, the buildings are also equipped with solar power generators. The government has built 10 wells in the village.
In the old days, the herdsmen, who are mostly ethnic Tibetans, lived in tents and had to contend with extremely low winter temperatures, according to Pedor, who lives with his wife. "Life is more comfortable than before. We're close to the town and it's convenient for me to buy stuff and see a doctor," he said, adding that his 23-year-old son lives next door.
Each adult villager receives 8,600 yuan a year as a subsidy for pasture, and residents younger than 15 and older than 55 also receive a special living allowance of 4,800 yuan a year. Every family is given 3,000 yuan annually as fuel compensation.
Like his fellow herdsmen, Pedor has joined the new rural cooperative medical system, and also receives more than 200 yuan a month from a fund that guarantees a minimum income for rural residents.
"The only problem is that we don't have cows or sheep anymore. We have to buy meat, which is a little expensive, but we have kept two yaks for milk, because I can't go without it," he said, with a smile.
According to Pedor, the villagers have opened shops, or taken part-time jobs to earn extra money, and the village has its own road maintenance team, which provides jobs for more than 80 people.
The extreme climate means grass is one of the few plants that grows well in Madoi. The residents used to depend heavily on meat, and all vegetables were imported from cities such as Xining, the provincial capital.
Now, though, the situation has changed. With technological guidance and financial support from the Sanjiangyuan Office and Shanghai municipality, eight half-sunken, experimental greenhouses were established in Machali last year. The villagers have been trained to manage the greenhouses, which can produce about 25 metric tons of more than 10 types of vegetable per year. The villagers consume about 50 percent of the produce, while the rest goes to the local market. The greenhouses bring the village about 160,000 yuan per year.
"Growing vegetables is a breakthrough in Madoi's history," said Zhang Jianning, a local official who acts as technical director for the greenhouses. "These greenhouses have provided a great example. Demand is huge, and more local residents will learn to operate their own in the future."