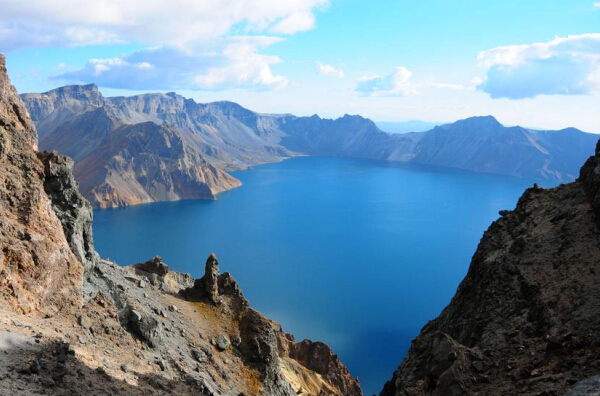 Photo taken on Sept 13, 2014 shows Tianchi Lake on Changbai Mountain in Northeast China's Jilin province. [Photo by Zhang Jian/Xinhua]
Thanks to ecological protection efforts by the local administrative committee, wild animals have returned to Changbai Mountain in Northeast China.
"Experts say that Siberian tigers have increased in the Changbai Mountain forest area in Jilin province to a dozen in recent years. More important, they appear as a family, showing a breeding trend," said Xie Zhongyan, a National People's Congress deputy and director of the Changbai Mountain National Nature Reserve Administrative Committee.
"Black bears are often seen," Xie added. "Populations of red deer, spotted deer and wild boars have increased gradually, and they can be seen in the reserve everywhere."
"Though we're not lucky enough to see deer, they leave fresh footprints. During winter, a dozen, and sometimes a hundred, wild boars can be seen in the snow. They run away from people as soon as they see you," Xie said.
The Changbai Mountain National Nature Reserve, the home to many rare wild animals, including Amur leopards, has unique natural resources.
The mountain range extends from Heilongjiang, Jilin and Liaoning provinces to the Democratic People's Republic of Korea's Ryanggang and Chagang provinces. Changbai Mountain is in the southeast part of Jilin.
Xie and his colleagues have worked to raise local residents' awareness of protecting the ecological environment, reinforcing law enforcement and cracking down on construction in the nature reserve.
"It is important to see ecological environmental protection as everyone's responsibility and spread sustainable development ideas to everyone," Xie said.
"Changbai Mountain has a long-standing culture of protecting animals," Xie said. "Ancient books wrote that human beings and animals did not interfere with each other. Ginseng diggers would put seeds back in the soil and let them grow; hunters would never hurt female animals, especially pregnant ones, or baby animals."
The State Forestry Administration also has focused on raising public awareness of protecting wild animals.
"Besides improving habitat management, we believe it is important and useful to raise public awareness to protect wild animals, especially raising awareness among residents along reserves," said Chen Fengxue, deputy head of the State Forestry Administration, China's wildlife watchdog.
The local authority has a professional law enforcement team to enforce the reserve's ban on poaching and hunting.
"Since the nature reserve was established, illegal hunting has been reduced by 90 percent," Xie said, adding that forest police confiscate hunters' shotguns.
There are no more professional hunters, either, and the government established a new job program to re-employ them, Xie said.
Bayanqolu, Jilin's Party secretary, said, "Ecological resources are Jilin's best advantage, the most valuable asset."