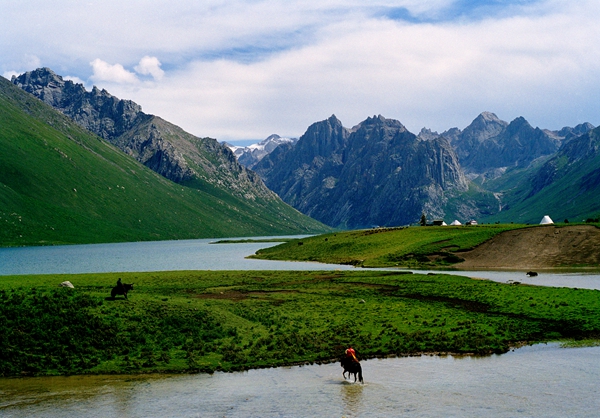 The flora of Madoi county, Qinghai province, is protected to prevent desertification.[WANG JING/CHINA DAILY]
Radical new moves to reverse decades of environmental degradation are paying dividends in one of China's highest nature reserves, as Kang Bing and Liu Xiangrui report from Madoi county, Qinghai province.
In Machali, a "relocation village" for former herdsmen in Madoi county, the residents have quickly grown accustomed to their new lives.
The nearly 200 households comprise former herdsmen who previously lived in two townships near the head of the Yellow River in the Sanjiangyuan Nature Reserve in Golog prefecture, Qinghai province.
In recent years, the local government has imposed a quota system on herding in the reserve, with the aim of protecting the local ecosystem by preventing roaming animals from stripping the grasses that hold the topsoil together and causing larger areas of land to become deserts. That has resulted in more than half of the county's approximately 10,000 herdsmen settling down in relocation villages near the county town or alongside important major roads.
Madoi is in the reserve's core region, and about 14,000 people live within its 25,000 square kilometers. The county is also home to more than 4,000 lakes, whose combined area adds up to 1,600 sq km. Two of them, the Eling and Zhaling lakes, are the largest freshwater bodies on the Yellow River and play a fundamental role in regulating the seasonal water volume.
"Madoi is a small county in terms of population, but a big one in terms of ecological importance," Ren Zhengde, the county's Party chief, said. "We don't have the pressure of industrial development, so the county's prime task is to protect the ecological environment."
In the 1980s, a combination of mining and herding saw Madoi register the highest per-capita GDP of all counties in China, but the influences of global warming, excessive herding and over-mining brought economic disaster.
Worse was to follow. In the 1990s, the lakes began to dry up. During the 1980s, the area boasted more than 4,000 lakes with areas of 0.06 sq km or larger, but by 2004 that number had fallen to just 261, according to Ma Gui, deputy director of the Madoi Department of Agriculture and Forestry.
Between 1983 and 2004, 70 percent of the available grassland degenerated or underwent desertification, the area of wetlands declined by 80 percent, the county became overrun by rats and wildlife numbers plummeted, he added.
To address the problems, in 2005 the local government imposed strict restrictions on herding and industries such as hydropower and mining.