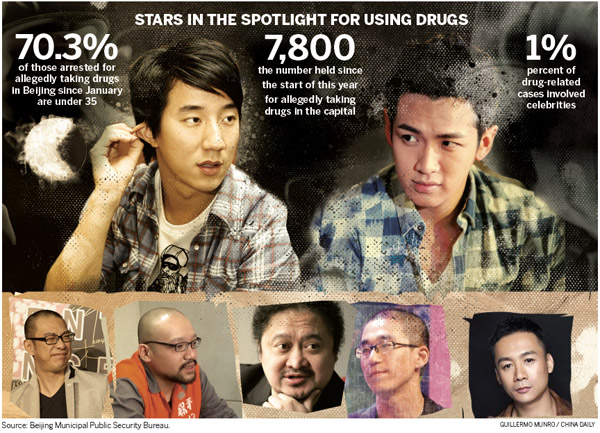 Clockwise from top: Hong Kong actor Jaycee Chan, Taiwan actor Kai Ko, actor Gao Hu, actor Zhang Mo, director Zhang Yuan, singer Li Daimo and scriptwriter Ning Caishen.
The problem has become a hot issue for the nation's authorities, with a series of youthful celebrities involved
Young people comprise the majority arrested in recent years during the police crackdown on drug use, Beijing police and experts say.
Celebrity drug busts in 2014 

August 

Gao Hu, actor, was arrested for using marijuana.More>>

July

Zhang Mo, son of famous actor Zhang Guoli, was detained for 13 days in 2012 for using marijuana and was arrested again for using marijuana last month.More>>

June

Ning Caishen, whose real name is Chen Wanning, scriptwriter, was detained for 10 days for using methamphetamine.More>>

May 

Li Daimo, singer, sentenced to 9 months in prison for hosting drug users.More>>
More than 7,800 people have been arrested for alleged drug offenses in the capital since January. Of these, just over 70 percent are under the age of 35, the Beijing Public Security Bureau says.
Eighty-two percent allegedly used crystal methamphetamine, or "ice", followed by those who used heroin and marijuana, police said, adding that most of those arrested were jobless.
The problem of young people taking drugs has become a hot issue, with a series of young celebrities involved.
On Monday, Beijing police said that actor Jaycee Chan, 32, the son of kung fu movie superstar Jackie Chan, and Kai Ko, 23, an actor from Taiwan, had been detained on suspicion of taking drugs.
Li Wenjun, associate professor of drug prohibition studies at People's Public Security University of China, said, "More young people are using drugs or have become involved in drug-related cases in recent years, because more new-style synthetic drugs have entered the mainstream market."
The raw materials for new synthetic drugs, such as "ice", are easier to obtain, Li said, adding that the drugs can be made easily and are in great demand.
"Take 'ice' for instance. It can be bought and delivered through online shopping platforms, which makes it hard for police to detect," she said. "People mostly use the drug at entertainment venues or in their apartments."
Sales of some chemicals have been restricted at pharmacies to prevent possible drug use, she said.
"Ice" can act as a stimulant and has even helped some celebrities to lose weight, "but this cannot become an excuse for taking it," she said, adding that the drug can damage the central nervous system.
Zhang Yu, a member of a team of anti-drug volunteers in Beijing, said it has developed several projects in middle and primary schools across the city.
Volunteers visit schools attended by migrant workers' children to pass on anti-drug knowledge by playing games with students every semester, ensuring that they can identify drugs, Zhang said.
"To my surprise, some students know more about the drugs than we do. Some of their parents work at entertainment venues, while some of the students obtain their knowledge from the media and TV programs," she said.
caoyin@chinadaily.com.cn