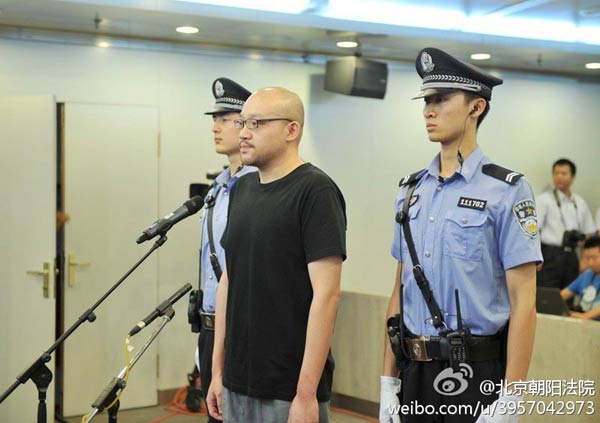 Photo taken May 27 shows reality show singer, Li Daimo, in Chaoyang District People's Court. [Photo by Chaoyang District People's Court]


Beijing's Chaoyang District People's Court on Tuesday jailed reality show singer, Li Daimo, nine months and fined him 2,000 yuan ($320)for allowing other people to use drugs at his temporary residence. Li said he will not appeal the sentence.
The police detained Li and five other people on March 18 at his home in Chaoyang's Sanlitun area. The Chaoyang District People's Procuratorate approved Li's arrest on April 16.
The singer had allowed people to take drugs at his temporary home several times since February, the judge said. Li was fully aware that his guests were taking drugs and violated China's Criminal Law, court documents showed.
Li, 25, rose to fame on popular TV talent show The Voice of China. He has more than 830,000 followers on the Twitter-like Sina Weibo.

The singer's fall from grace is just another in China's show biz that has been marred by a host of drug-taking scandals in recent years.

In April 2011, Hong Kong actor Max Mok was arrested in Beijing for taking drugs, only three months after the arrest of Chinese rock singer Xie Tianxiao for drug use. The following year, Chinese actor Zhang Mo, son of famous actor Zhang Guoli, was found using drugs in his villa.

The general manager of a Chinese culture communication company said on condition of anonymity that some celebrities take drugs to stave off their psychological woes.

"The self-worth of many stars in the show biz hinges on applause from the public, and they suffer from spiritual emptiness in their lives from time to time," said the manager.

More, taking drugs was regarded as an "avant-garde" lifestyle and a symbol of high status in the entertainment circle, he added.

Man Wenjun, a Chinese singer, said that his life plunged to bottom when he was caught taking drugs a few years ago, which stymied his career.

"I used to dye my hair so that people would not see my hair graying on stage. After my life was ruined due to taking drugs, I was afraid of performing in public and simply stopped hair dyeing," Man said in review of his infamous drug scandal in 2009, adding that he tried to "evade the crowds" amid mounting criticism.

Although Man has made a comeback, he said it is not easy for stars like him to regain trust from the public.

Celebrities' drug-taking behavior could easily cast a negative impact on the public, particularly on their fans, thanks to their "charm" and ensuing demonstration effect, said Zhou Xiaozheng, a professor at Renmin University of China.

Xia Xueluan, a sociologist at Peking University, said that many celebrities have taken pains to get what they own today, and it is necessary to cherish it.

"They should not only show glorious images on stage, but set good examples for the public off stage," Xia said.