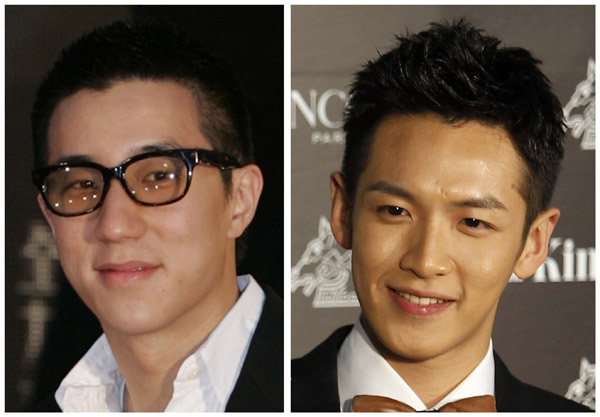 A combination of file photographs show Hong Kong actor Jaycee Chan (L) arriving at the Hong Kong Film Awards April 19, 2009 and Taiwanese actor Kai Ko at the 48th Golden Horse Film Awards in Hsinchu, northern Taiwan November 26, 2011. Jaycee Chan, son of martial arts superstar Jackie Chan, has been arrested in Beijing in connection with possible drug use. According to reports by Chinese online and state media on August 18, 2014, Jaycee Chan (aka Fang Zuming) was present when Taiwanese actor Kai Ko (aka Ko Chen-tung) was recently arrested on drugs charges. Pictures taken April 19, 2009 (L) and November 26, 2011. [Photo/Agencies]
"I have a 9-year-old daughter. She has started to worship idols. We shouldn't neglect the huge influence of stars on the teenagers who haven't yet formed a complete sense of what is right. Fortunately, her idol is not among these drug-users. But I still worry some day her idol will set a bad example, too."
- Zhu Ailin, 35, a civil servant in Weifang, Shandong province
"I felt sad about the news. I wonder why stars use drugs. Aren't they afraid, considering previous cases involving celebrities taking drugs? It's stupid for them to try to relieve pressure by using drugs. They should be role models for fans."
- Zhou Mengna, 21, a junior at Xiamen University in Fujian province and fan of Kai Ko
Two celebrities involved in a drug scandal on Tuesday will bring huge losses to the companies that invited them to be brand ambassadors, industry analysts predicted.
Taiwan actor Kai Ko has reportedly signed contracts with 19 brands for his appearances in TV commercials, with two-thirds of the companies in the Fortune Top 500, while Jaycee Chan, the son of actor Jackie Chan, has been the brand ambassador for six brands.
Nivea, which has endorsed Ko for its latest skin care products for men, reportedly issued a statement on its micro blog saying it was shocked and sad to hear about Ko's drug use and expected him to correct his behavior and take responsibility. Nivea, a brand under the German company Beiersdorf, couldn't be reached for comment on Tuesday. Ko's image is still on Nivea's website.
Yum! Brands Inc, parent company of KFC restaurants, told China Daily that it currently has no projects in progress with the actor. The restaurants hired Ko for an advertisement campaign early this year.
Maybelline New York, under the French beauty group L'Oreal, said in an e-mail that it was saddened by the news and hoped Ko will mend his ways and never let down his fans. It did not elaborate further on the relationship between Ko and Maybelline.
Industry insiders said it is very likely that brands that have offered endorsements with the actor will end their contracts to alleviate the negative impact on their brand images, especially in light of the State Administration of Press, Publication, Radio, Film and Television's no-tolerance policy on TV commercials involving illegal images.
They also said that Ko's drug scandal could lead to losses of about 1 billion yuan ($163 million) for the brands he represented, directly and indirectly.
"Celebrity endorsement is always appealing, and as a whole it generates great marketing value, as it can help brand quickly build connection with the fans and increase the chance of brand recall," said Jason Yu, general manager of Kantar Worldpanel China, a research institute and consultant on the fast-moving consumer goods market.
"It also helps increase consumers' desire for a specific brand if the brand image is well aligned with the aspiration the celebrity tries to communicate," he added. "However, if the celebrity fails in life, as they are people, it will bring considerable risk to the brands." In this specific case, the positive and healthy image those brands try to portray could be ruined by the failure of Ko as a role model to younger consumers, Yu said.
Contact the writers at wangzhuoqiong@chinadaily.com.cn and lifangfang@chinadaily.com.cn