2013-10-08
Analysing the world economic situation, President Xi said the overall momentum remains sound, but unstable and uncertain elements still pose challenges to comprehensive economic recovery and healthy growth.
2013-10-08
Pacific Rim leaders continued their discussions Tuesday with focus on improving connectivity during retreat sessions at the ongoing APEC leaders' meeting.
2013-10-08
Officials at an APEC forum revoked the press credentials of a group of Hong Kong journalists who shouted questions to Philippine President Benigno Aquino III about his refusal to apologize for the killings of Hong Kong tourists in Manila three years ago.
2013-10-08
Chinese President Xi Jinping said here Monday that his country will deepen reform and opening-up in all respects, as Chinese economy has entered a new stage of development.
2013-10-08
China is ready to promote mutually beneficial cooperation with ASEAN during the upcoming East Asia leaders meetings, Vice Foreign Minister Liu Zhenmin said Monday.
2013-10-08
Chinese President Xi Jinping said here Monday that China is committed to promoting regional peace and development, and building a cross-Pacific cooperation framework.
2013-10-08
China and Russia said Monday that they will jointly commemorate the 70th Anniversary of the Victory of the World Anti-Fascism War in 2015.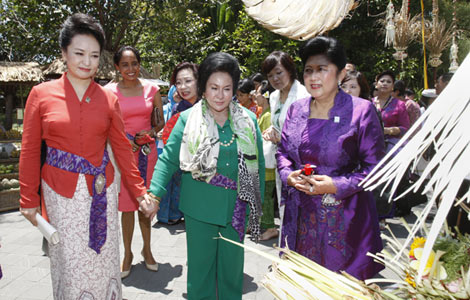 2013-10-08
Peng Liyuan of China, wife of Chinese President Xi Jinping, holds hands with Rosmah Mansor of Malaysia, wife of Prime Minister Najib Razak, and Ani Yudhoyono, the Indonesian president's wife, during their visit to the Bali Safari and Marine Park in Gianyar, on the Indonesian resort island of Bali on Monday.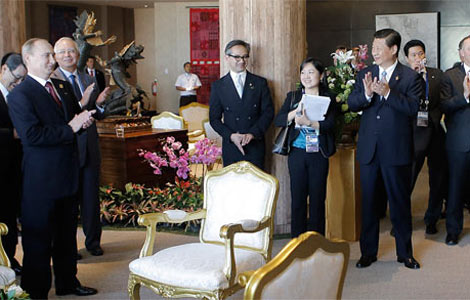 2013-10-07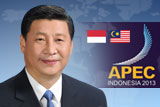 Thoughts after hearing Xi's speech
I was very happy to see that Xi Jinping did focus on trade and on the importance of Asia Pacific trade being cooperative and inclusive.