APEC looks to increase regional connectivity
By ZHONG NAN ( China Daily )
Updated: 2013-10-07
Asia-Pacific economies will count on enhanced regional connectivity to stimulate trade and attract investment as the member countries seek decisive measures to improve regional economic integration, industry experts say.
"Regional connectivity is among the 21 member economies' greatest interests at the Asia-Pacific Economic Cooperation forum," said Luo Renjian, a researcher at the institute of transportation research under the National Development and Reform Commission.
Luo said the APEC economies, particularly those in Southeast Asia and South America, such as Vietnam, Indonesia, Peru and Chile, are building new platforms for broader cooperation with major APEC economies.
These platforms include upgraded logistics services, giant international shipping companies, new air routes, pipelines, port facilities, and land and sea telecommunications.
Zhang Yunling, a senior research fellow of Asia-Pacific studies at the Chinese Academy of Social Sciences in Beijing, said the top priority, which needs to be settled first, is to establish a flexible transportation network throughout the Asia-Pacific region to further stimulate economic growth.
APEC leaders agreed in Singapore in 2009 to commit to enhancing transportation routes between the economies as a means to promote regional connectivity.
In early September, transport ministers of the APEC economies agreed in Japan to create a plan for a safer and more efficient transportation network that better integrates the regional economy.
These officials hope to develop an ambitious "connectivity map" of roads, high-speed railways, ports and other infrastructure projects by 2020.
"This move will embody tangible efforts linking growth centers such as Shanghai, Singapore and Los Angeles, and developing new growth hubs such as Jakarta, and Callao in Peru in the region," Zhang said. "From a long-term perspective, the new cooperative mechanism will fully support trade, private investment, industrial productivity and the service industry in this massive market."
Zhang said the rail, road and sea connectivity projects between Singapore and Malaysia this year have set an example for the development of similar routes among the APEC economies and enhance regional integration.
APEC economies, especially China and the United States, are keen to encourage people-to-people connectivity to drive advances in the educational sector and assist member nations or regions to better respond to natural disasters such as extreme weather, earthquakes and tsunamis.
According to China's Ministry of Foreign Affairs, plans have already been made to set up an emergency response travel card to allow for fast response by APEC member economies to disaster zones to help facilitate local economic and infrastructure recovery.
Zhou Zhicheng, deputy director of the research department of the China Federation of Logistics and Purchasing in Beijing, said improving connectivity between governments, big multinational corporations and influential academic institutions can be a useful way to optimize industrial structure, policies luring foreign investment and technological development in certain parts of the APEC region.
"To rehabilitate small economies in the region, countries such as China, the US, Australia and Japan should share their best practices in transportation infrastructure investment and operations," Zhou said.
However, regional connectivity means huge private and government investment in infrastructure and related service projects, and raising funds takes time.
In the current global economy, Zhou said the risks could remain high, as there are heavy concerns about feasibility and profitability of those large-scale building and bridge projects.
To prevent risks, companies in China, Thailand, Australia, Malaysia and Mexico have already demanded their governments provide guarantees in terms of legal frameworks and incentives to facilitate progress, under the supervision of the APEC Business Advisory Council.
zhongnan@chinadaily.com.cn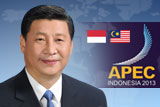 Thoughts after hearing Xi's speech
I was very happy to see that Xi Jinping did focus on trade and on the importance of Asia Pacific trade being cooperative and inclusive.