2013-10-21
Visits by President Xi Jinping and Premier Li Keqiang to Southeast Asia have paved the way for furthering ties with China's neighbors.
2013-10-10
China is ready to discuss with ASEAN countries the prospect of concluding a treaty of good neighborliness, friendship and cooperation.
2013-10-09
The summit between China and the Association of Southeast Asian Nations will indicate the strategic direction of China-ASEAN relations.
2013-10-09
The pact would have brought together key Pacific Rim countries into a trading bloc that the US hopes could counter China's growing influence.
2013-10-09
China's pursuit of good neighborly relations with ASEAN member states will not only promote its own development, but also contribute to ASEAN community.
2013-10-08
Obama didn't have any intention to use the APEC forum as a platform to announce any drastic changes or new initiatives in US foreign policy.
2013-10-08
The 2013 APEC meeting was aimed at building Asia-Pacific into a region of vitality to enable it to fuel global economic growth.
2013-10-08
Pacific Rim economies need to better coordinate their macroeconomic policies and uphold the spirit of win-win cooperation.

2012-09-21
Chinese Vice-President Xi Jinping said on Friday that the growth of China-ASEAN relations shows China's diplomacy has lived up to the principle of building amity and partnership with neighbors.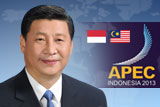 Thoughts after hearing Xi's speech
I was very happy to see that Xi Jinping did focus on trade and on the importance of Asia Pacific trade being cooperative and inclusive.