New strategic initiatives for China-ASEAN relations will promote cooperation and ensure peace and development
The year 2013 marks the 10th anniversary of the establishment of the China-ASEAN strategic partnership. Premier Li Keqiang will attend the East Asia leaders' meeting in Brunei from Oct 9 to 10, among which the highlight will be the 16th China-ASEAN leaders'meeting.
Standing at a new historical starting point, the summit between China and the Association of Southeast Asian Nations will indicate the strategic direction of China-ASEAN relations and draw a blueprint for bilateral relations. It will have far-reaching consequences for economic integration as well as political and security landscape of East Asia and the entire Asia-Pacific region.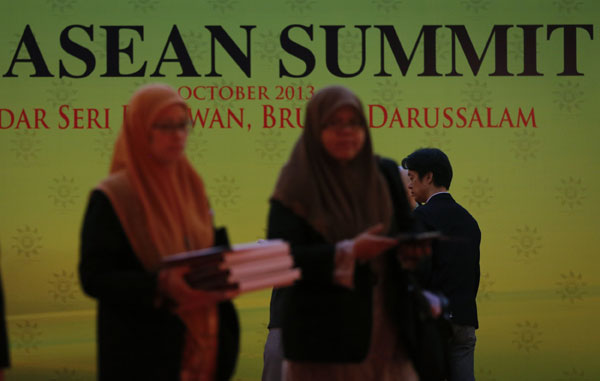 Officials get ready for the Association of Southeast Asian Nations summit in Bandar Seri Begawan, Brunei, on Monday. Leaders of the 10 ASEAN nations, as well as those of China, Japan and South Korea, will be joined by leaders of Russia, the United States and India. Vincent Thian / Associated Press 
In 2003, China-ASEAN relations were upgraded to a strategic partnership. China was the first to establish a strategic partnership with ASEAN, the first to sign the Treaty of Amity and Cooperation in Southeast Asia, and the first to start free trade area negotiations with ASEAN.
The three initiatives of China not only started a "golden decade" of China-ASEAN relations and built a favorable environment for China's development, but also provided the most important driving force for East Asian peace, prosperity and integration, transforming East Asian political culture from suspicion and confrontation to cooperation and development.
The new Chinese government initiated intensive diplomatic interaction with ASEAN members this year and proposed a series of new ideas and measures to deepen cooperation in East Asia, especially China-ASEAN cooperation.
This not only successfully defused the political crisis facing bilateral cooperation after the South China Sea disputes flared up in 2010, but also quickly carved a new situation for China's East Asian diplomacy and created new opportunities for a "diamond decade" of China-ASEAN relations in the future.
While attending the Boao Forum for Asia in April, President Xi Jinping stressed that China will further promote friendship and partnership with its neighbors, and ensure that China's development will bring even greater benefits to its neighbors. In September, Li attended the opening ceremony of the 10th China-ASEAN Expo and delivered a keynote speech, saying China's good-neighbor policy toward ASEAN is not a matter of expediency, but a long-term strategic option of China.