Resilient region of Asia-Pacific key to global economic growth
The 2013 Asia-Pacific Economic Cooperation meeting was held in Bali, Indonesia, from Oct 5 to 7 under the theme of "Towards Resilience and Growth: Reshaping Priorities for the Global Economy". According to the organizers, the summit was aimed at building Asia-Pacific into a region of vitality to enable it to fuel global economic growth.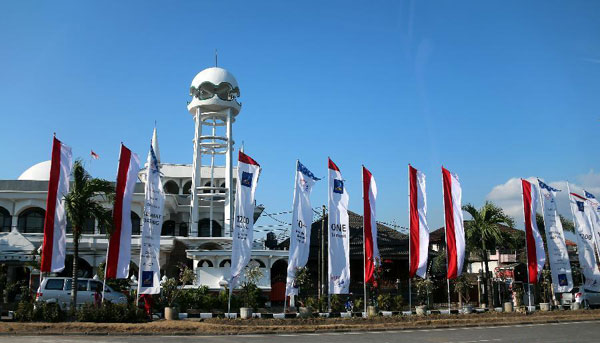 Photo taken on Oct 4, 2013 shows banners of APEC summit in the street of Bali, Indonesia. The APEC Ministerial Meeting was opened in Nusa Dua of Bali on Friday. The 21st leaders' meeting of the Asia-Pacific Economic Cooperation (APEC) will be held in Bali from October 2 to 8. [Photo/Xinhua] 
APEC's motto and motive are more that welcome, especially when large parts of the global economy are still struggling with economic downturn. Since the United States and the European Union both are yet to recover from the global financial and the eurozone debt crises, the attention of the entire world is focused on the Asia-Pacific region to put the global economy back on the track of growth.
And the Bali theme shows that APEC has the potential and confidence to pull the global economy out of recession.
The 2008 global financial crisis, which started in the US and spread to the rest of the world, is still haunting many countries, both developed and developing. Combined with the Cold War mentality that unfortunately some countries still have, and the US' strategic shift toward the Asia-Pacific, the global economic crisis has created uncertainties for the world economy and international relations.
APEC's theme was also in line with the global pursuit of peace, development and cooperation. Most of the APEC member economies cherish an environment favorable to peace and development. They want better cooperation, not alliance, because the latter is reminiscent of the Cold War days. They hope to use cooperation to achieve common prosperity, and are not interested in "taking sides" between confronting groups.
The Bali theme demonstrated the pursuit of Asia-Pacific economies, too, which will play a definitive role in global economic recovery and sustainable development. This is important because the impact of the repeated use of quantitative easing measures by the world's major economies, the US in particular, has been severely felt by emerging economies like Indonesia, which is a member of APEC, and India, Brazil and South Africa.